Unprecedented 9 candidates seeking two seats on Holy Cross Energy board
An unprecedented nine candidates are running for two seats on the board of Holy Cross Energy, a rural electric co-op with 55,000 members on Colorado's Western Slope. Its coverage area includes two of the biggest players in the nation's ski industry: Aspen and Vail.
The race for the co-op's Western District, which includes Aspen, features incumbent Lynn Dwyer – the first woman elected to the co-op board in its 71-year history – and Randy Udall of the
Association for the Study of Peak Oil & Gas
. Dwyer, the current vice president of the Holy Cross board, is owner of Dwyer Greens and Flowers in New Castle.
Udall is the brother of Colorado Sen. Mark Udall and cousin of New Mexico Sen. Tom Udall, and he's an outspoken analyst of energy issues and advocate for greater diversity of utility loads, including renewable sources. In recent weeks he's had
sharp words
for the renewed interest in oil shale as gas prices have spiked and he's weighed in on the
ongoing battle
between the coal and natural gas industries.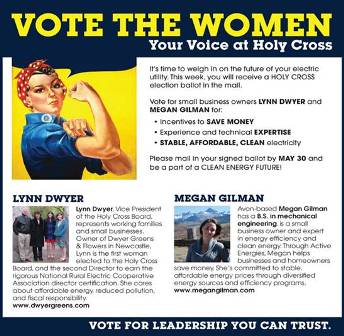 The other two candidates in the Western District are Thomas McBrayer of Carbondale, general manager of a propane company in Glenwood Springs, and Clemons Kopf, an electrical engineer in Glenwood Springs.
In the Northern District, which includes Vail, five candidates are vying for one seat, including lightning-rod former Democratic Eagle County Commissioner
Arn Menconi
, who left office due to term limits and heads up a highly successful
nonprofit snow sports organization
that introduces at-risk kids to the mountains.
The other candidates include Megan Gilman of Avon, owner of Active Energies, a company specializing in renewables and energy efficiency consulting; Scott Prince, an Avon banker with Wells Fargo; Dan Corcoran of Eagle, the current Eagle County surveyor; and Erik Lundquist, a mechanical, plumbing and electrical engineer in Gypsum who ran for the board last year and lost out to banker Michael Glass by a margin of 1,683 votes to 1,179.
Veteran Colorado journalist and former Vail Trail editor Allen Best poses the question of why so many people would run for such a low-paying ($600 a month) position. On his
website Mountain Town News
, Best theorizes there may be some backlash after the Holy Cross board went
majority green
last year.
"[Holy Cross] is an open and transparent rural electric utility, arguably the most progressive in the state and possibly the country," Udall told Mountain Town News. ""Is there a grassroots backlash to some recent green initiatives? Perhaps, but I haven't heard about it."
Best concludes the wealth of candidates for such low-profile and thankless jobs likely stems from an economic downturn providing people with more disposable time and the heightened interest in energy issues nationwide.
For years, electric co-ops have been largely ignored by the voting population (basically if you get your power from the co-op, you are considered a member-owner with the right to vote for the board of directors). Most co-op elections draw only 20 to 30 percent of the members compared to 50 percent or so in municipal and county elections.
Co-ops since the 1930s have been used to spread electrical power into rural areas where large, publicly owned utilities would not go, and the boards were often made up of ranchers and farmers who made decisions for decades. Now many of those rural areas have become populated with people questioning decisions on rates, fuel loads and other co-op policies.
Holy Cross Energy, which has a track record of supporting innovative renewable energy projects, has largely steered clear of controversy, although two years ago it was blasted by some for investing $100 million in Xcel Energy's new Comanche 3 coal-fired power plant.
In the past, former Holy Cross board president and Carbondale rancher Tom Turnbull
stirred up controversy
with statements in the Holy Cross newsletter that societies sometimes benefit from warmer climates – obviously not a popular sentiment for ski resort operators.
Then last year, Turnbull, who is no longer board president,
angered board challengers
by backing the incumbents – a move that raised questions about possible violations of a state law aimed at rural co-op board election transparency. Turnbull is still on the board, but now serves as secretary.
Aspen Skiing Company director of sustainability Auden Schendler has sent out two emails supporting Dwyer and Gilman in this election.
"Vote the women!" the emails read. "Megan and Lynn are both energy progressives with the best chance of winning this election; Lynn is the first woman ever elected to the board, and Megan would be the second woman to serve since 1942."
But beyond gender issues, Schendler argues co-op elections are much more important than most people realize.
"This is your biggest chance in the next year to influence where your electricity comes from, and how that affects air pollution, jobs, climate change, asthma rates, and a whole range of issues," Schendler wrote. "It's one of the most important things you do on the environment this year. I'm asking you to please vote for candidates that support clean energy and efficiency …"
Vail Resorts, a publicly traded company, typically does not take a public position in local elections.
In other parts of the state, co-op elections have become quite contentious – specifically at the state's largest co-op, the Intermountain Rural Electric Association on the Front Range between Denver and Colorado Springs.
Elections at the IREA have become
heated debates
about climate change and coal, oil and gas versus renewable sources such as wind, solar and geothermal. In the IREA's most recent election,
just one green board member
made it onto the co-op's seven-member board.
All ballots are due in for the
Holy Cross Energy
board election by June 4 and can be either mailed in (for the first time ever members received postage-paid, pre-addressed return envelopes) or submitted in person by 10:30 a.m., Saturday, June 4, at the board's annual meeting at the Ramada Inn in Glenwood Springs.
---

31 Comments on "Unprecedented 9 candidates seeking two seats on Holy Cross Energy board"