Spring melt-off could produce spectacular, dangerous avalanches in Colorado high country
Unusually deep snowpack in parts of Colorado's northern and central mountains has the potential to produce dangerous avalanches in pathways that may not have run in decades, and that may run farther than they have in recent memory, according to the Colorado Avalanche Information Center and the Colorado Geological Survey.
Many of the federal government's snow monitoring sites are recording snowpack levels of more than 160 percent of average, and include some areas with snowpack well over 200 percent of an average year. In many areas snow was still accumulating through the end of April. This may increase the likelihood for major avalanches during melting.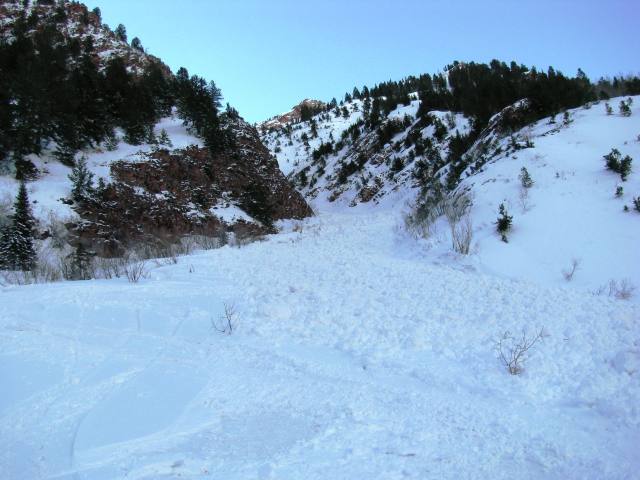 The CAIC emphasizes that the public – including local governments and private companies that deploy fieldworkers to outdoor sites — needs to be aware of this potential hazard and be prepared for very large events. This warning also applies after an avalanche, as it is important people do not enter debris zones until the area has been evaluated for further avalanche activity potential, officials said.
"An example of this hazard occurred April 30, when an unusually large and destructive avalanche struck the Peru Creek drainage near the town of Montezuma in Summit County," reads a press release from the Colorado Geological Survey. "This avalanche destroyed large, 100-plus year-old trees as well as a high-voltage tower that was installed in the late 1970s. This was an isolated event, but an indication of what is possible this spring. In addition, the Colorado Geological Survey warns that the heavy snowpack combined with a rapid warm-up could also lead to substantial mudslides and debris flows. For instance, similar conditions in 1984 led to more than 40 mudslides and debris flows in the Vail Valley."
While rapid transition to above freezing temperatures, or a sustained period of warm temperatures could produce massive and destructive avalanches, large spring slides are not guaranteed. "But the right weather conditions during May and early June could produce avalanches larger than we have seen in 30 to 100 years. Stands of timber, structures, and other assets in avalanche runout areas could be damaged or destroyed."
More information is available here, with a map showing federal Natural Resources Conservation Service SNOTEL data on snowpack levels and here, with photographs showing recent impacts of the Peru Creek drainage avalanche.
The Colorado Avalanche Information Center is also warning rescue workers, demolition workers and other people that they should carry proper avalanche rescue equipment and use safe travel protocols. Experts from the center are available to advise on spring conditions and avalanche safety. Backcountry advisories are available at www.colorado.gov/avalanche through May 30. In an emergency, staff can be reached at 303-204-6027.
---

2 Comments on "Spring melt-off could produce spectacular, dangerous avalanches in Colorado high country"