Eagle County well represented in landmark 'Colorado River Cooperative Agreement'
Eagle County stakeholders played a pivotal role in more than five years of negotiations that led to the announcement this week of a landmark water pact that, if approved, would provide critical environmental protections in the upper Colorado River Basin.
On hand for Thursday's announcement of the deal in Grand County was Glenn Porzak, who serves as water counsel for Eagle River Water & Sanitation District, Upper Eagle Regional Water Authority, Eagle Park Reservoir Company, Vail Resorts, and other local organizations.
"The aforementioned 'Eagle County water agencies' represented by Mr. Porzak were early, strong, and committed leaders in the five-year negotiation process," Eagle River Water & Sanitation District communications and public affairs manager Diane Johnson said in an email. "As this statewide announcement is made, know that protecting stream flows in the Eagle River basin – upon which much of our recreation economy depends – was a guiding tenet."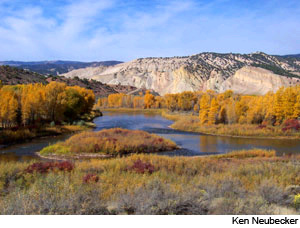 As
first reported
last week by Allen Best of
Mountain Town News
, the sweeping and unprecedented water accord called the "Colorado River Cooperative Agreement" was announced in Grand County by political leaders from Grand, Summit and Eagle counties, along with officials from Denver Water, the Colorado River District, the ski industry and other major stakeholders.
The pact, which still must be approved by a slew of Western Slope and Front Range jurisdictions, has been years in the making and is seen as a potential national model for regional cooperation on water issues in order to avoid lengthy and costly litigation that has marred Western Slope and Front Range water relations in the past.
"This cooperative effort represents a new way of doing business when it comes to water," Gov. John Hickenlooper said at today's announcement. "It shows that water solutions must be crafted from a statewide perspective. We hope and expect that this process will ripple across Colorado to other areas of water conflict."
The deal, which includes 34 partners from Grand Junction to Denver, sets limits on future diversion of Western Slope water to booming Front Range communities and compels Denver Water to provide certain "environmental enhancements" in the Colorado River Basin, including financing municipal water projects and providing additional water supply and service area restrictions on the Western Slope. In exchange, Western Slope stakeholders will drop their opposition to Denver Water's Moffat Collection System Project.
"This all comes down to the health of the Colorado River Basin for us," Eric Kuhn, general manager of the Colorado River District, said in a release. "I believe we can all agree that, in the end, the Colorado River and many of its tributaries will be healthier under the terms of the proposed agreement than it is today."
For years, the Colorado River Basin has been
under growing pressure
from Front Range residential development, energy extraction, the agricultural sector and outdoor recreation users. This deal is aimed at getting all the groups to collaborate on water issues going forward.
Also, if approved, the new accord will include a "major water‐sharing and conservation arrangement" between Denver Water, Aurora Water and South Denver metro area water providers.
"Denver Water is proud to be part of this new vision for water management in Colorado that seeks to ensure the good of the whole," Jim Lochhead, CEO/manager of Denver Water, said in a release. "We hope this first‐of‐its‐kind agreement sets the standard for how the state thinks about building a secure water future."
Colorado politicians were quick to praise the deal:
Sen. Mark Udall:
"With our state's population set to double by 2050 and water supplies already stretched thin, Coloradans must work creatively and collaboratively on our shared water challenges. I commend the Western Slope water users and Denver Water for working together. Their process sets a new tone for water conversations across the state by seeking cooperation and not litigation."
Rep. Ed Perlmutter
"Constituents of my district need more water but also want to protect the environment and the health of Colorado's rivers and streams. They also know that a secure water future is vital for a healthy economy in the region. This agreement is an historic breakthrough in how Colorado's water is managed by meeting all those goals."
Rep. Diana DeGette
"Water has traditionally sparked conflict and confrontation in our state. But the people who negotiated this landmark agreement should be commended for their tireless efforts and for showing us there is a different and better way to managing Colorado's precious water resources."
---

19 Comments on "Eagle County well represented in landmark 'Colorado River Cooperative Agreement'"