Denver skiers lost on hut trip near Aspen found safe in Gunnison County
Four men
reported missing in the Aspen
backcountry were found uninjured today seeking shelter in the Dorchester Guard Station in Gunnison County.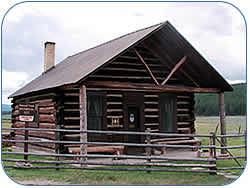 The group was expected home Monday so when heavy snow moved into the area and the skiers did not return, a family member alerted authorities that the skiers were overdue. The men — all in their 30s and from Denver — reserved the Goodwin Green Hut for Saturday, Sunday and Monday nights so it was presumed they may have stayed in the hut to wait out the storm. With still no sign of them Tuesday afternoon, the Pitkin County Sheriff's Office and Mountain Rescue Aspen swung into action, sending snowmobilers to the hut.
The skiers were identified as Robert Burns, Andrew Burns, Dan Sheeks and Matt Smith.
The rescue party arrived at the Goodwin Green Hut on Tuesday night but the missing men were not there. The skiers had, however, printed out their reservation receipt and hung it on the wall of the cabin — standard ski hut protocol — so authorities knew they had been there.
The Mountain Rescue Aspen team spent the night at the cabin. And the next morning, using snowmobiles, a combined team of two Mountain Rescue Aspen members and two West Eagle Search and Rescue located the skiers.
Snow stymied efforts to search by air.
The group was located at about 11:45 a.m. today at the Dorchester Guard Station, about eight miles south of the Goodwin Green Hut. It appears the men got lost in the storm.
Because they were so off course, they will be exiting the wilderness in Crested Butte.
"As of 2:20 p.m., the skiers had been turned over to Crested Butte Search and Rescue personnel and were expected to exit the wilderness in the Crested Butte area," a press release from the sheriff's office said.
---

66 Comments on "Denver skiers lost on hut trip near Aspen found safe in Gunnison County"