Hunting harvests high in 2010, but some Colorado conservation groups worried wildlife habitat in danger
Colorado Division of Wildlife (CDOW) officials on Monday reported that 214,000 hunters harvested 48,018 elk in Colorado last fall – a 22 percent success rate.
"While we've reduced elk numbers in recent years in areas where elk were raising issues for landowners, we've still got plenty of elk for people who want to hunt," said CDOW northwest regional manager Ron Velarde. "Our two largest herds in northwest Colorado have more elk than most other states, and we have 43 other elk herds in Colorado."
Colorado is home to an estimated 460,650 deer, 214,536 elk and 76,710 pronghorn antelope – mostly on more than 23 million acres of public land. CDOW estimates hundreds of thousands of hunters pump more than $300 million in direct revenue into the Colorado economy every fall.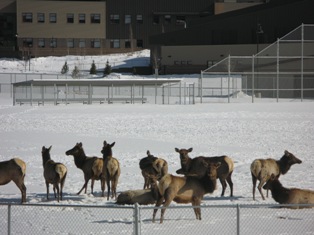 Recent increases in licenses and lands available for hunting led to a record harvest of 12,301 pronghorn during the 2010 seasons, topping the 2009 record of 10,941. The 2010 mule deer harvest of 34,768 was up from the 2009 total of 33,922,
according to CDOW's 2010 harvest stats
.
However, some conservation groups are worried the
Obama administration's National Forest Planning Rule
unveiled last month could
adversely impact fish and wildlife habitat
on 13 national forests and grasslands encompassing 14.5 million acres of public lands in Colorado.
The
Theodore Roosevelt Conservation Partnerships (TRCP
) expressed reservations ahead of a meeting on the proposed plan at U.S. Forest Service offices in Lakewood on Monday. The Obama forest management plan would replace a rule governing 193 million acres of national forest and grasslands nationwide that's been in place since 1982. The TRCP is a nonprofit conservation group made up of sportsmen advocating for wildlife habitat protections.
"Two issues of the highest importance to sportsmen on public lands are recreation and fish and wildlife habitat," reads a TRCP release. "While they might be of equal importance, if recreation is elevated above habitat, then we have the potential to degrade habitat, which actually results in fewer opportunities to hunt, fish, and enjoy wildlife.
"For example, if a forest has an excessive motorized route density, elk will flee to private land, resulting in less recreation opportunities for the public to enjoy elk."
A total of 17 Colorado conservation groups recently sent a letter to U.S. Agriculture Secretary Tom Vilsack insisting on more definitive protections for fish and wildlife habitat. The groups feel the "current draft rule ignores scientific recommendations on wildlife diversity protection, misses opportunities to ensure protection of watersheds and makes longstanding requirements for the Forest Service to maintain wildlife populations largely optional."
---

81 Comments on "Hunting harvests high in 2010, but some Colorado conservation groups worried wildlife habitat in danger"