Puckett, Kostner set to defend Legends titles at Vail's Korbel American Ski Classic
In the 28-year history of the Korbel American Ski Classic, it has only been done twice … and both by women ski racers.
Not since Vail's Cindy Nelson won back-to-back Volvo Legends Giant Slalom titles in 1989 and 1990 has a Legends' racer been able to defend his or her Giant Slalom crown the following season. Prior to Nelson, it was former U.S. Ski Team member Joan Hannah who turned the trick in 1985 and 1986.
When some of the greatest names in ski racing history descend on Vail Mountain's Golden Peak Thursday afternoon for the 2011 Volvo Legends Giant Slalom, both 2010 champions, American Casey Puckett and Italy's Isolde Kostner, will be on hand to try and join the exclusive "Repeat Club".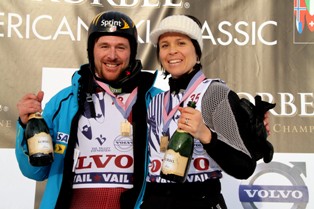 "Becoming a champion of the Volvo Legends Giant Slalom requires a mix of both skill and luck," said Michael Imhof, vice president of sales and operations for the Vail Valley Foundation, organizers of the annual event.
"While you might think that younger racers like Casey and Isolde would have an obvious advantage being more recently involved in world class international competition, our unique handicapping system ensures that all of our legends have a level playing field. Winning the Volvo Legends requires that you not only break out the GS suit and race skis, but that you also leave nothing in the start gate."
A year ago, Puckett, a rookie Legend at the Korbel American Ski Classic and fresh off his Vancouver Olympic skier cross competition, knocked off former U.S. Ski Team star Steve Mahre in the finals to claim the victory, while Kostner, the 2009 Korbel Ford Cup celebrity team captain, took out American Pam Fletcher in the gold medal pairing to notch the win.
Puckett brings five years of World Cup experience to this year's Volvo Legends Giant Slalom, along with a pair of Winter X Games gold medals in Skier X, while Kostner owns 15 career World Cup victories, as well as three Olympic medals and a trio of World Championships medals.
However, the path to another Legends title for either competitor will not be a walk in the park. The men's field will include the likes of Austria's Franz Klammer, American stars Phil and Steve Mahre and Puckett's former teammate, Daron Rahlves.
On the ladies' side of the bracket, Kostner will need to find a way to deal with Americans Pam Fletcher and Hilary Lindh, Canada's Karen Stemmle, Germany's Marina Kiehl and Swedish ace Ylva Nowen.
The Volvo Legends Giant Slalom will get under way at 1 p.m., Thursday at Golden Peak with handicapping, while qualification runs are on tap for 4:30 p.m. Bracket rounds for both men and women are set for a 5 p.m. start, while the Volvo Legends Giant Slalom finals are slated for 6 p.m.
In addition to the racing action, the Golden Peak Stadium will also be the site of the Bud Light Street Beat free concert, featuring the soulful funk sounds of Robert Randolph & the Family Band. The free performance is scheduled to get underway at 6:30 p.m., immediately following the Volvo Legends Giant Slalom award ceremonies.
The 2011 Korbel American Ski Classic is a project of the Vail Valley Foundation. For additional information on the Ski Classic or the Foundation, check out www.vvf.org.
---

72 Comments on "Puckett, Kostner set to defend Legends titles at Vail's Korbel American Ski Classic"