Vail's Vonn 'devastated' by GS cancellation that hands overall title to Riesch by just 3 points
In the end, Mother Nature and the International Ski Federation (FIS) decided the overall World Cup title, handing the globe to Germany's Maria Riesch over Vail's Lindsey Vonn by a scant three points when the final giant slalom was canceled today because of "an insufficiently solid racing base due to rain, warm temperatures and fog" in Lenzerheide, Switzerland.
"Win or lose I just wanted the chance. I feel devastated," Vonn said of her derailed bid to win an American record fourth straight overall title. She raged back from a 216-point deficit on Feb. 25 to take the overall lead by 23 points after Wednesday's World Cup Finals downhill.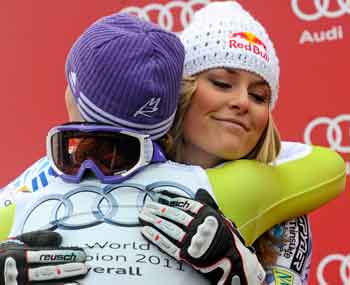 Then terrible ski racing conditions scrubbed Thursday's super G – an event Vonn has dominated this season – and Riesch reclaimed the lead by three points by finishing fourth in Friday's slalom. Vonn was 13th. Races are not made up at World Cup Finals, and so today's canceled GS means Riech wins her first overall title with 1,728 points to 1,725 for Vonn – the tightest margin since Anja Paerson beat Janica Kostelic by three points in 2005.
"I'm extremely proud to have been in the fight for what was one of the most exciting seasons in ski racing history," said Vonn, a Ski and Snowboard Club Vail product. "A few weeks ago I was over 200 points behind and I was able to battle back into the overall lead with just two races remaining."
Vonn wound up winning three of the five season discipline globes – downhill, super G and super combined – and eight regular season races. Riesch didn't win any of the season discipline globes and had two fewer regular season wins (six), but she was so consistent this season that the German was able to claim the overall globe.
"I'm proud of defending the downhill, super G and super combined titles and I was ready to fight for what could have been a record fourth overall," Vonn said. "Maria had an outstanding season and again proved to be my biggest competitor. She's worked really hard for this. I'm happy for her and every athlete who stood on the top step this season."
Vonn said having cancellations decide outcomes is a black eye for the sport.
"The cancelation of this race doesn't just hurt me, it hurts the fans and the sport of ski racing as a whole," Vonn said, admitting she'll have to work that much harder in the tech events of GS and slalom to reclaim the overall globe next season. "There are so many ways to look at this. There may never be a day where I don't look back and say 'what if?' But right now all I'm thinking about is how much harder I need to work this summer to continue winning races. I love ski racing."
Head coach Alex Hoedlmoser also expressed his disappointment that more effort wasn't made to run today's GS.
"I feel so sorry for Lindsey. We should have tried everything possible to get this race off. It's disappointing that there wasn't more effort to delay and see if there was an opportunity to run," he said. "Just to call it in the morning wasn't the right way to go. This is a tough day for Lindsey and the sport of ski racing."
---

165 Comments on "Vail's Vonn 'devastated' by GS cancellation that hands overall title to Riesch by just 3 points"