Vail chef a semifinalist for James Beard award
A portly conservative talk show host
recently
ripped the First Lady for dining at Kelly Liken's restaurant in Vail, blabbing on about food his big mouth had never tasted and calories his fat fingers clumsily counted.
But Rush Limbaugh isn't the only one casting judgment on Liken's culinary creations. So are the gastronomic gurus at the James Beard Foundation who believe she is one of the best chefs in the Southwest.
Indeed, just days before Michelle Obama ever tried her ancho chile-braised bison
short rib
with wilted Tuscan kale, hominy and wild mushroom sauté, and a pickled pumpkin and arugula salad, the good folks at the James Beard Foundation nominated Liken along with 19 other chefs from the region as the crème de la crème.
This is the third year in a row Liken has earned the distinction.
In addition to making it to the final in the seventh season of "Top Chef" on Bravo, Liken is known for refined, healthy cuisine that showcases seasonal ingredients from local farmers, ranchers and "artisanal food producers."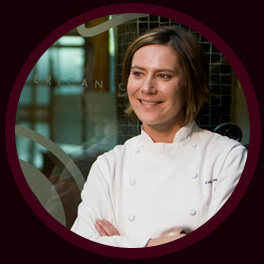 "Colorado has an amazing selection of ingredients you can't get at the local farmer's market including bison, elk, wild porcini mushrooms grown on the local hillsides, or turnips and potatoes grown at 8,300 feet above sea level, that are truly divine," Liken states in her biography on her restaurant's
website
. "If I can't find an ingredient or product from Colorado, I won't buy it from someplace else."
Another plus for Liken — and a reason the Obamas dined at her restaurant — is she has partnered with the Vail Valley Foundation and Brush Creek Elementary School to spearhead an edible schoolyard garden and project called "Sowing Seeds."
Liken is facing difficult competition from other previously nominated James Beard Foundation chefs, including Ryan Hardy, chef of Montagna at the Little Nell in Aspen, and Mark Fischer, chef of Restaurant Six89 in Carbondale, who also emphasize locally grown and seasonal ingredients in their array of delectable dishes.
Other in-state nominees
this year
include Jennifer Jasinski of Rioja in Denver, Alex Seidel of Fruition Restaurant in Denver and Bertrand Bouquin of Summit at the Broadmoor in Colorado Springs.
The list of James Beard nominees will be shortened on March 21. Winners will be announced in May.
---

303 Comments on "Vail chef a semifinalist for James Beard award"