Vail's Vonn locks up downhill title with second-place finish behind Swedish great Paerson
TARVISIO, Italy -- Vail's Lindsey Vonn clinched her second discipline title in as many days with a second-place result in a World Cup downhill today. Swedish superstar Anja Paerson grabbed her first World Cup win in more than a year, and the 42nd of her storied career.
Vonn secured the 11th discipline title of her career with the 80 points for second place and edged closer to overall leader Maria Riesch, of Germany, by 40 points. Riesch placed sixth today and now leads Vonn by 136 points in the overall hunt with seven races remaining on the schedule, including a super G in Tarvisio on Sunday.
A win today and Vonn, a 26-year-old Ski and Snowboard Club Vail product, would have tied Paerson, who turns 30 next month, on the all-time wins list. Now Paerson gained some distance on Vonn, who still sits fifth on the all-time wins list with 40 career victories.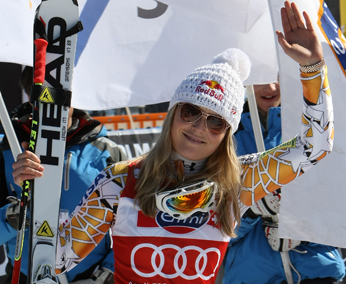 Vonn could wrap up her third discipline title this season (she claimed the super combined globe Friday) and 12th of her career with a solid result in Sunday's super G. She currently holds a 131-point margin over Riesch in that category.
Vonn has now won four straight downhill titles.
"Four years ago, there's no way I could see myself in this position," Vonn said. "Downhill is my favorite discipline and I just love going fast, so I'm really happy to get my fourth consecutive downhill globe -- it's amazing and it means the world to me."
After dropping out of the World Championships last month with concussion symptoms from a training run crash, Vonn appears to be back to full speed.

"It's been a great weekend so far," she said. "Clinching the super combined title [Friday] and then the downhill title today was awesome, and I also have a chance to close things up in the super G tomorrow."
Vonn remains somewhat of a long-shot to catch Riesch for her fourth straight overall title because the German has been so much better than Vonn in the technical disciplines of slalom and giant slalom.
"I made some good points toward the overall title today too, but it's still Maria's title to lose. It's still a long shot at this point, but I'm chugging away and skiing with nothing to lose. It makes things easier for me. All I have to do is try and win each day and keep that mentality going."
Meanwhile, on the men's side, Ted Ligety, of Park City, Utah, finished third by .12 seconds behind winner Carlo Janka, of Switzerland, today in a World Cup giant slalom in Kranjska Gora, Slovenia. Ligety is now poised to win his fourth giant slalom globe, with a 77-point advantage over Aksel Lund Svindal, of Norway.
Incredibly, today's GS winner, Swiss skier Carlo Janka, just had surgery to repair a heart arrhythmia late last month.
OFFICIAL RESULTS
Audi FIS Alpine World Cup
Tarvisio, Italy – March 5, 2011
Downhill

1. Anja Paerson, Sweden, 1:26.91
2. Lindsey Vonn, Vail, CO, 1:27.64
3. Elisabeth Goergl, Austria, 1:28.08
-
10. Julia Mancuso, Squaw Valley, CA, 1:28.75
11. Leanne Smith, Conway, NH, 1:28.84
23. Laurenne Ross, Klamath Falls, OR, 1:29.31
24. Stacey Cook, Mammoth Mountain, CA, 1:29.32

---

1 Comment on "Vail's Vonn locks up downhill title with second-place finish behind Swedish great Paerson"