Anti-green group that blasted Aspen lawmaker claims credit for squashing Newt at conservative confab
A nonprofit anti-clean-energy lobbying group active in Colorado politics is taking credit for derailing the presidential aspirations of former Republic Speaker of the House Newt Gingrich at last week's Conservative Political Action Conference in Washington.
American Tradition Partnership (ATP), a 501(c)4 "dedicated to fighting environmental extremism," has ties to Western Tradition Partnership, a group that has
targeted numerous Democratic candidates
in Colorado dating back to 2008. Increasingly, the groups are targeting Republicans seen as too moderate on environmental and energy issues.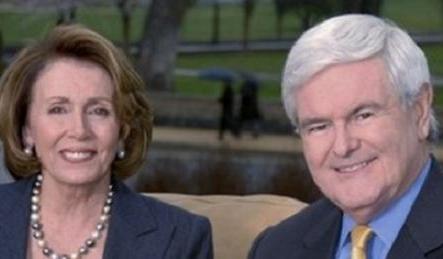 ATP last week launched its "Power-Grabbing Newts" campaign to sink Gingrich in the annual CPAC presidential straw poll, ripping into the former speaker and architect of the "Contract With America" for an ad campaign Gingrich filmed with former Democrat Speaker of the House Nancy Pelosi promoting former vice-president
Al Gore's Alliance for Climate Protection
.
ATP and WTP executive director
Donald Ferguson said in a release
that his campaign succeeded in relegating Gingrich to fifth place with just 5 percent of the vote in the
CPAC straw poll
, which saw Texas congressman Ron Paul win for the second year in a row. Paul got 30 percent of the vote and former Massachusetts Gov. Mitt Romney was second with 23 percent.
"American Tradition Partnership delivered a message to Newt Gingrich," Ferguson said. "Your record of radical environmentalism should stay on that love seat with Nancy Pelosi. ATP members urge Speaker Gingrich to renounce radical environmentalism and adopt a conservative message of less government and more freedom."
Ferguson and WTP got credit for
one of the nastiest campaign pieces in Colorado
last November, sending out a mailer with the face of state Sen. Gail Schwartz superimposed over the body of Donald Trump with the tagline "You're Fired!" It was a reference to Schwartz's strong advocacy for renewable energy legislation that the groups view as job-killing attacks on the oil and gas and coal industries.
---

9 Comments on "Anti-green group that blasted Aspen lawmaker claims credit for squashing Newt at conservative confab"