Vail's Vonn shakes off concussion, claims silver medal in downhill at World Championships
GARMISCH-PARTENKIRCHEN, Germany – A weakened Lindsey Vonn, of Vail, came within .44 seconds of defending her FIS Alpine World Ski Championships downhill title today with a silver medal performance, leading three Americans into the top 10.
Super G silver medalist Julia Mancuso, of Squaw Valley, Calif., was sixth and Laurenne Ross, Klamath Falls, Ore., posted a career-best 10th on spring-like snow conditions. Vonn has been battling symptoms from a concussion suffered earlier this month in a training crash.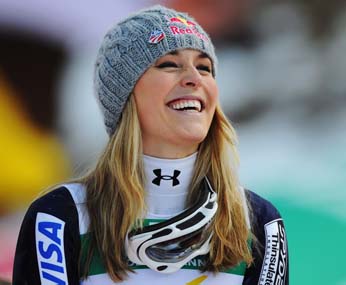 "Today feels like a gold medal," said Vonn, who sat out the slalom portion of the super combined earlier in the Championships. "It's a really great feeling and I couldn't be happier. I could feel the speed today. I think I made some really good turns and I was happy with my skiing. There were great conditions out there. It was a fun downhill and I enjoyed racing it."
Austrian Elisabeth Goergl earned gold to sweep the women's speed events ahead of hometown favorite Maria Riesch, who earned her second bronze of the Championships.
"Lizzy [Goergl] has stepped up and she's done incredibly well. Her runs were amazing. I watched her run from the super combined and I thought 'wow'. She's stepping up and it's really cool to see. She's a really hard worker and a very nice person. It's fun to see people really step up in World Championship events."
Vonn isn't sure what World Championships events she'll participate in the rest of the way. Today's sliver was her fifth career World Championships medal.
"Of course, I'd love to do the team event," Vonn said. "I'd love to do the GS and slalom as well. But I don't know if that's the best thing right now. I'm going to talk to my doctors and my husband and we'll make that decision. I haven't made a decision yet."
Mancuso was gunning for her fifth Worlds medal after winning the silver in the super G on Tuesday.
"Worlds is one of those things were you have to enjoy it, but then if you don't succeed you have to let it go," Mancuso said. "I'm really impressed by the crowd here. It's one of the best crowds we've had at a World Championships."
Course conditions criticized for being brutally icy early last week turned into spring-like slop, but Mancuso said the track held up well today.
"The surface is actually really good," she said. "My game plan was just to take risks and make sure to not give myself any room for mistakes. I executed the second half of the course, but unfortunately I'm not sure where the time when on the top part."
Weather definitely played a factor in how she raced today.

"It's amazing how different your strategy has to be if the snow changes and it's amazing how different the course can change," Mancuso said. "Today it was like frozen spring skiing as opposed to the ice we had in the first training run."

OFFICIAL RESULTS
2011 FIS Alpine World Ski Championships
Garmisch-Partenkirchen, Germany – February 13, 2011
Downhill
1. Elisabeth Goergl, Austria, 1:47.24
2. Lindsey Vonn, Vail, CO, 1:47.68
3. Maria Riesch, Germany, 1:47.84
-
6. Julia Mancuso, Squaw Valley, CA, 1:48.30
10. Laurenne Ross, Klamath Falls, OR, 1:48.87
25. Stacey Cook, Mammoth Mountain, CA, 1:50.53
-
Did not finish
Leanne Smith, Conway, NH
For complete results: http://www.fis-ski.com
---

10 Comments on "Vail's Vonn shakes off concussion, claims silver medal in downhill at World Championships"