State to fix bridge where Aspen-area man plunged to death
A narrow gap between two bridges through which a young man in November is believed to have fatally plummeted will soon be closed to prevent future catastrophe, officials confirmed this week.
State and local officials hope to wrap up conversations this week so they can announce a safety plan for the new and old Maroon Creek Bridges that sit side by side and are separated by barely 18 inches.
"CDOT has continued to work with and hold meetings with city and county officials," Colorado Department of Transportation spokeswoman Nancy Shanks said Monday afternoon. "Together we are developing plans to do some mitigation between the two bridges. We are working on designs as well as making sure we coordinate with the state historic office so that we preserve the older bridge."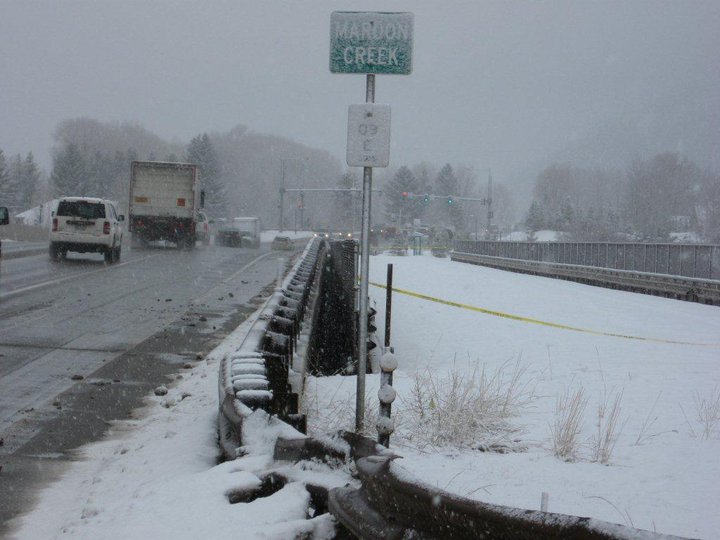 After a relatively early night out in Aspen on Nov. 27, Snowmass lift operator George Aldrich, 28, exited a local bus at the wrong stop and, while on foot, tried to find his way home in the cold, snow and darkness. Nearly three weeks later — after multiple searches and an outpouring of national attention — Aldrich's body was discovered in rough terrain some 100 feet beneath the Maroon Creek Bridge, not far from the Truscott parking lot where he was last seen.
Toxicology reports revealed a high level of alcohol in his system that authorities say contributed to his death but his family, friends and others have noted that ethanol levels rise as bodies decompose and that video footage of Aldrich did not portray him as especially intoxicated in the minutes before his death.
Many people agree that regardless of one's sobriety, navigating the Maroon Creek Bridges in the night if you are unfamiliar with them is potentially dangerous the way they are currently constructed.
The newer bridge and old one are parallel to each other with the former featuring a guardrail and the latter a fence. But the new bridge has an arc to it that positions it higher than the old bridge's fence in places. If someone were not careful or able to see where they were stepping, they could slip through the crack. That side of the bridges isn't actually designed for pedestrian use. Foot traffic is supposed to be on the other side of the new bridge, which also carries motorists. The old bridge currently has no use and has been preserved largely so that it might support light rail or some other mass transit in the future.
Aldrich's family and friends have been critical of the design of the bridges.
"Whatever it would cost to fill that gap, to build barriers, to erect well-lit signs, it would not be nearly as great a cost as the loss of Georgie. This horrifying situation needs to be rectified immediately. Will it take the loss of another life before anything is done?" Constance Ross Ciampanelli, a friend of the family in Rhode Island, from where Aldrich hails, wrote in a recent e-mail to Real Aspen.
Upon learning that officials expect to release a plan this week to improve the safety of the bridges, the Aldrich family posted the following statement on Facebook:
"It is heartbreaking that Georgie's death had to be the reason the obvious design flaw will finally be addressed. We would like to thank everyone who had a hand in helping fix this bridge. It is certainly bittersweet for our family."
Details are still to come but Shanks said the project shouldn't take long to contract and carry out.
"It sounds like this could happen real soon," she said.
---

156 Comments on "State to fix bridge where Aspen-area man plunged to death"