Sign of economic recovery? Ambulance district logs second busiest year in 2010, record December
Eagle County Ambulance District (ECAD) logged its second-busiest year in 2010, topped by the most call-intensive December ever. ECAD responded to 3,421 calls for service in 2010, including 238 transfers to regional hospitals. December saw more than 500 calls, including a record 38 transfers of patients to Denver and Grand Junction hospitals.
District manager Fred Morrison attributes the December call load to winter weather and additional car accidents on I-70, as well as the 10 percent uptick in visitors this winter season. The 2010 numbers reflect an overall increase of six percent and a 10 percent jump in actual patients transported over 2009 when the EMS service responded to 3,225 calls and transported just over 2,000 patients to hospitals.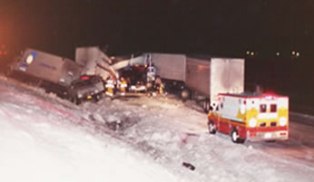 "We've been in demand this winter, continuing a trend from 2010 overall. It was the first year that we've had the Traer Creek Station operational and that has helped us spread the load across our on-duty paramedics," said Morrison. "The station has been invaluable to how we operate and serve the community."
The Traer Creek Station opened in November, 2009, and handles calls in and around Avon and its I-70 segment.
December's 38 out-Valley transports mark the most transfers to regional medical centers that ECAD has ever handled in one month.
To handle the call load and remain adequately prepared for any contingency, ECAD staffs three full paramedic crews during the winter months around the clock, with an additional daytime crew from 11 a.m. to 11 p.m. seven days a week.
Ambulances can be added to the system as needed through the use of on-call personnel when call load dictates. Last year was the second-busiest year for ECAD compared with 2008, when crews responded to 3,718 calls including 2,151 transports and 256 transfers.
---

559 Comments on "Sign of economic recovery? Ambulance district logs second busiest year in 2010, record December"