Eagle-Vail's Del Bosco goes for unprecedented back-to-back gold medals in X Games ski cross
Loaded Canadian squad hopes to repeat last year's dominance
ASPEN -- Eagle-Vail's Chris Del Bosco, skiing for Canada, hopes to make history this weekend by becoming the first man to win consecutive X Games ski cross titles, after he won the 2010 event ahead of teammates Dave Duncan, of London, Ont., and Calgary's Brady Leman.
Canada's ski cross athletes overall are looking to recapture the magic that saw them sweep the men's podium and finish second and third in the ladies' event at last year's ESPN Winter X Games. The action runs Thursday-Sunday, January 27-30 at Aspen's Buttermilk ski area.
On the women's side, Whistler's Ashleigh McIvor, the Olympic champion, is hungry for her for first X Games title after losing out to Ophelie David of France last year. Kelsey Serwa, of Kelowna, B.C., who was third in that race, has been the athlete to beat on the World Cup circuit this season and leads the overall standings.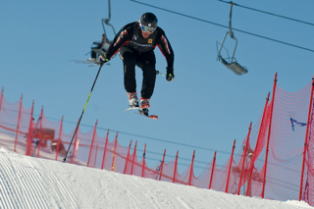 Del Bosco, who grew up in the Vail Valley but holds dual citizen ship, is coming off a World Cup win at Les Contamines, France, on Jan. 16.
"No one's ever won back-to-back at the X Games so the goal is definitely to try to do that," said Del Bosco. "For me, the X Games is huge. It's kind of where our sport started."
Canada's ski cross team enjoyed a week off after the World Cup races in France. Athletes are due to practice Wednesday and Thursday in Aspen before taking part in qualification Friday and men's and ladies' races on Sunday.
"It's basically the biggest event our sport has, other than the Olympics," McIvor said of the X Games. "It's so chilled and fun-focused. It takes us back to our roots -- why we all started racing ski cross.
"I feel like they really kept our sport going when it wasn't going to get added to the Olympic program. That's why we feel it's important to go and compete there."
The X Games format is slightly different from World Cup races and the Olympics. Instead of four racers in each heat, the X Games features six. The extra skiers add an element of drama and excitement and the Aspen course is also renowned for being challenging.
"It's a bigger and better course than anything we see all year," said Serwa, who was third at last year's X Games and sixth in 2009. "There are lots more opportunities for passing. I think we almost have a better chance of advancing.
"I've been close for the last two years. One of my goals heading into the season was to stand on top of the X Games (podium)."
Head coach and longtime Vail Valley resident Eric Archer said the X Games gives Canada's athletes an excellent chance to train and prepare not only for this weekend's races, but the FIS Freestyle World Ski Championships in Deer Valley, Utah, which include ski cross events Feb 3-4.
"It's the time of the year when we get the most time to train. It's really important to take advantage of that," he said. "It's also the biggest course so after training and racing on it, everything else seems easier."
---

70 Comments on "Eagle-Vail's Del Bosco goes for unprecedented back-to-back gold medals in X Games ski cross"