Winter X Games athletes Bleiler, Wescott carve up climate change at Aspen-area schools
ESPN's Winter X Games turns 15 this week in Aspen, and like any stubborn and rebellious teenager, the event doesn't like to delve too deeply into bummer topics like global climate change. But the pro snow riders set to compete on Thursday seem to realize their livelihood is directly linked to the planet staying cold and snowy enough for them to engage in the nation's preeminent winter action sports festival.
Two-time Olympic gold medalist and three-time X Games silver medalist Seth Wescott today joined fellow snowboard-cross competitor and five-time X Games gold medalist Nate Holland at Basalt High School near Aspen to present a new program called "Hot Planet/Cool Athletes."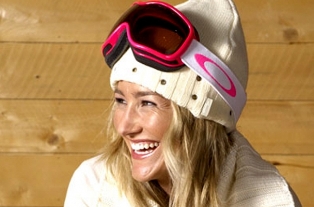 A partnership between the nonprofit
Protect Our Winters
(POW) environmental snow sports group and the Alliance for Climate Change Education (ACE), Hot Planet/Cool Athletes is attempting to engage and educate high school students on global climate change by having top professional athletes relay their own experiences with a warming planet.
"Part of POW's mission is to make sure that the next generation is better equipped to address climate change. As athletes, we now have a relevant platform to reach young students and create a movement of passionate youth leaders," POW founder and professional snowboarder Jeremy Jones said in a release.
Wednesday, Olympic silver medalist and four-time X Games gold medalist Gretchen Bleiler visits her hometown Aspen High School to present the program. All of this leads into a weekend of X Games action at nearby Buttermilk, with competition running Thursday through Sunday.
"I'm definitely not a scientist. I'm not an expert on climate change. But being a professional snowboarder, I've been chasing snow year-round for the last 10 years and because of that I've been able to see the effects of climate change firsthand,"
Bleiler told students at the CU Environmental Center in Boulder last fall
.
In a Yale University study conducted last fall, only one in 10 Americans said they have a strong understanding of climate science, and 75 percent of Americans said that schools should teach our children more about the causes and effects of climate change.
Ted Ligety, an Olympic gold medalist in alpine skiing,
told The Colorado Independent
last year that climate change is having major impacts on where and when skiing competitions can be held. He said lower-elevation venues like Whistler, British Columbia (site of last year's Vancouver Winter Olympics), and Sochi, Russia (site of the next Winter Olympics in 2014), are becoming increasingly problematic.
"It's definitely difficult," said Ligety, who works with the World Wildlife Fund to get the word out on climate change issues. "But it's good to go to some different places like Vancouver, and Sochi will be neat as well. But obviously on the global warming side of things the resorts in Sochi are a little higher elevation – at the least the base – from what Whistler is, but it's one of those things you never quite know."
Whistler was plagued with rain and soft snowing during the Olympics last year, forcing numerous race postponements and cancellations. Sochi is a beach resort on the Black Sea, with a ski resort located in nearby mountains.
---

83 Comments on "Winter X Games athletes Bleiler, Wescott carve up climate change at Aspen-area schools"