Vail's Vonn takes Cortina super-G for 39th career World Cup win
CORTINA d'AMPEZZO, Italy (Ski Racing Magazine News Service) - American Lindsey Vonn won her second World Cup super G in three days today in Cortina d'Ampezzo, Italy, edging Germany's Maria Riesch, her rival in the overall standings, by just five hundredths of a second.
Racers and fans were treated to a third consecutive day of beautiful sunshine in the breathtaking Dolomite Range as today's picturesque start was positioned just above the Schuss Pomedes - a narrow gap between two massive rock walls.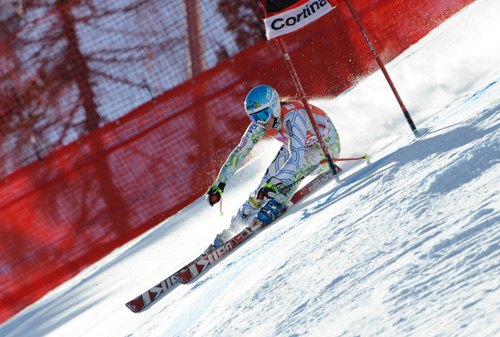 Vonn, third in yesterday's downhill won by Riesch, shook off her recent habit of needing dramatic recoveries to finish speed races and accomplished her goal of putting together a clean run to earn her sixth victory of the season and fourth in the super G. The Vail, Colo. native's latest heart-stopping save came in yesterday's downhill when she narrowly avoided going into the safety netting and tweaked her knee on the way to finishing third. "It was tough to charge today because my knee was really sore," she said. "Mentally, I just had to put it out of my head - every point is so important right now." It was Vonn's fifth win and 11th World Cup podium in Cortina.
"I've always like the Tofane track, it was actually where I got my first podium," said Vonn, who first landed on the Cortina podium in 2004. "I've always had a great feeling on the hill and the snow is always perfect and it's usually sunny and beautiful and. I always have fun."
Riesch, who was the 17th racer down the course, finished with a time of one minute, 22.69 seconds and held a 0.83-second lead on the field prior to being dethroned by Vonn, the next racer up, before she could set foot in the leader's box. Today's result marks her 11th World Cup podium of the season. "I'm satisfied with my weekend," Riesch told reporters. "It's tough to beat Vonn in the speed events and I won on Saturday and was second today."
Almost a full second behind the leading duo was third-place finisher, Swiss Lara Gut, who gave her competition a peek at the right line early as she took the No. 8 bib down the 45-gate Olympia delle Tofane course in one minute, 23.52 seconds. Gut, winner of a super G two weeks ago in Zauchensee, Austria, is the only woman to win a World Cup speed race this season not named Vonn or Riesch as the pair have combined to take nine of ten downhill and super G races this season.
The win brought Vonn 20 points closer to Riesch in the overall standings. Reisch now leads 1232 to 1087 just more than halfway through the season which will be interrupted next month by the World Championships in Riesch's hometown of Garmisch. Austrian Elisabeth Goergl (seventh today) stands third in the overall rankings with 628 points. Vonn leads Riesch in the super G (380-229 ) and downhill (420-357) rankings.
"This weekend went really well, I'm really happy with all the results," said Vonn. "I'm looking forward to Sestriere, I'm just going to try to do the same thing, have good, solid, aggressive and clean runs and try not to have mistakes and we'll see what happens. All I can do is my best and hope the results will be favorable.
American Julia Mancuso (second in yesterday's downhill) finished 1.15 seconds off the winning pace in fourth today to match her result in Friday's super G and earn her sixth top-five result of the season. Mancuso had an impressive recovery of her own in the middle of the course when she barley made a tight right hand turn on one ski.
"I've always liked Cortina so it was nice to just relax and have fun skiing," said Mancuso, who collected her seventh podium here. "It's tough racing against Lindsey and Maria because they're so fast, you really just have to risk a lot and sometimes it works out and sometimes it doesn't."
Mancuso, a three-time Olympic medalist, continues to strive for the top of the podium. Her last World Cup win came in 2007 (Tarvisio downhill).
"I'm still always trying to look for the podium and trying especially to win races," she said. "Right now, with how well both Lindsey and Maria are skiing, you have to have a really good run. Today I took a couple really big risks and had kind of a sketchy run but that is kind of how I'm looking at it. I'm definitely trying to win. It's hard."
Swede veteran Anja Paerson was three hundredths of a second behind Mancuso in fifth.
The U.S. Team had two more scoring result as Laurenne Ross bounced back from a tough crash in yesterday's downhill to finish 21st and Leanne Smith (eighth in Friday's super G) took 22nd. Chelsea Marshall just missed the points in 31st.
"It was a perfect day in Cortina again with perfect conditions and sunny weather," said U.S. head coach Alex Hoedlmoser. "The girls were skiing well. Lindsey did a really good job and Julia also is skiing really well. The team is performing, they all know they can be in there, the whole atmosphere is good and everybody is pushing a little bit harder now."
"I think our whole team is skiing incredible well, we are showing a lot of depth," said Vonn. "It's great to be part of a team that's doing so well and I think we're feeding each other and giving each other confidence. I think team work is the reason why we are doing so well."
Canadian Britt Janyk led the Canadian women, as she's done all season, in ninth place, 1.78 seconds off the leading pace.
Elena Curtoni led the Italians in 10th as the home team saw five women score World Cup points.
Today's DNF list (17 racers total) claimed more than its share of top-10 regulars. Austrians Anna Fenninger, Andrea Fischbacher and Nicole Hosp as well as Slovenian Tina Maze and Italian Daniela Merighetti were all taken out of contention after skiing off course. One tricky move near the bottom of the course - a tight right hand turn just after a small jump - spoiled several racers' days including Hosp, Merighetti and her Italian teammate Elena Fanchini, who hooked the gate and fell hard but was able to ski down. American Stacey Cook was eliminated after ducking under the panel of the same gate.
"Stacey didn't finish but at the last split she was pretty much on pace for a top-10 result," said Hoedlmoser. "She skied exceptionally well and was just pushing it a little bit too hard."
The women's World Cup now moves to Sestriere, Italy with a downhill scheduled for Saturday Jan. 29 and a super combined on Sunday Jan. 30.
For more details including race results visit www.SkiRacing.com.
---

122 Comments on "Vail's Vonn takes Cortina super-G for 39th career World Cup win"