Vail's Vonn third behind Riesch, Mancuso after dodging downhill disaster in Cortina
Miller second to Cuche in Kitzbuehel downhill
CORTINA d'AMPEZZO, Italy Ski Racing Magazine News Service) -- Just a three hour drive from where the World Cup men were celebrating the "Super Bowl" of ski racing Saturday in Kitzbuehel, Austria, the women had a classic downhill of their own in Cortina d'Ampezzo, Italy as Germany's Maria Riesch returned to the top of the downhill podium on a stunning day in the majestic Italian Dolomites.

Riesch, the current overall leader and winner of this season's first two downhills in Lake Louise, was the fastest in today's contest by almost a full second with a time of one minute, 39.30 seconds on a day that could not have been much better for ski racing. Cloudless skies and temperatures in the teens all framed by some of the most beautiful, jagged mountain scenery in the world left fans little to ask for as Riesch showed them what a perfect downhill run looks like.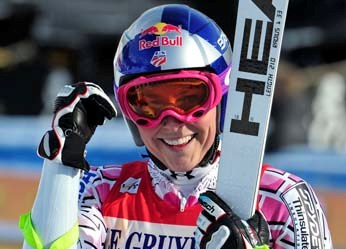 Americans Julia Mancuso (0.91 seconds back) and downhill standings leader Lindsey Vonn (one second back) joined Riesch on the podium in second and third, respectively. It was Mancuso's 22nd career podium and her best World Cup result since finishing second here in a super G in 2008 and her first Cup downhill podium in three years. She won the silver medal in the downhill at the Vancouver Games.
"I really like Cortina so it's always nice to be on the podium. I like it because it's fast the whole way down especially this year with really good snow conditions," said Mancuso, who called the race a chargefest. "Of course I always want to try and win but Maria was really fast today."
"Julia was awesome," said U.S. head coach Alex Hoedlmoser of Mancuso, who finished second in both of this week's training runs and fourth in yesterday's super G. "We're really psyched. We knew that was in her. It was a very good effort from her and a sold run top to bottom and should definitely giver her some confidence."
It was the first time Vonn finished lower than second in a speed race this season as she collected her 73rd career World Cup podium and 10th in Cortina.
Vonn came into today's race having won three consecutive races in Cortina (yesterday's super G and last season's downhill and super G). Her on-the-edge ways of late caught up with her as she was forced to make yet another mid-course, high-speed recovery.
"I though I had a pretty good run going on the top, then close to the bottom I caught an edge and basically was headed straight for the fence and somehow I managed to recover it," said Vonn, who at least mildly tweaked her knee during the effort to stay on course. "My knee is hurting pretty badly right now but nothing major happened so I'm really happy about that."
Though the save was impressive and avoided what could have been a horrific crash, the mistake proved costly at the finish line. Vonn was visibly shaken and disappointed in the finish area as she slipped 40 points (currently trails by 165 points) behind her good friend Riesch in the overall standings.
"It's the first time I was pretty afraid in a downhill and it doesn't feel very good I have to say," said Vonn, who drew gasps from the crowd with her harrowing recovery. "I've never been so scared before so I'm kind of in a funny mood right now. I'm just really happy I'm not hurt and I didn't crash, but it was a tough day at the office so hopefully tomorrow is better."
Riesch, who recorded a season low (24th) in the Val d'Isere downhill in mid-December, worked her way back to the downhill podum with a fourth-place result at the last downhill stop two weeks ago in Zauchensee. Today's win marked the six-foot-tall, double Olympic gold medalist's 18th career World Cup win and sixth in the downhill. She has raked in 10 podiums this season including four victories to lead Vonn 1152 to 987 in the overall standings midway through the season. She finished ninth in yesterday's super G.
"I'm really happy with [this] race It was important for me to hit back today after the little disappointment of yesterday and also because maybe the Maribor races are totally canceled," Riesch told Fisalpine.com. "It's really important to make good points in speed events for me."
Austrian Andrea Fischbacher just missed the podium in fourth place, 1.10 seconds off the winning pace. Swiss Nadja Kamer landed fifth ahead of Italian Daniela Merighetti, who finished sixth to lead six of her teammates into the points on home snow.
American Stacey Cook notched her best result of the season in 17th while teammate Leanne Smith (eighth in yesterday's super G) tallied her seventh scoring result of the season in 26th. Chelsea Marshall finished 34th.
Britt Janyk again led the Canadian women in 24th with a time of 1:42.10.
Racer after racer reached the bottom of the 2590-meter, 43-gate Olympia Delle Tofane course doubled over and clutching their exhausted thighs. Austrian Michaela Kirchgasser's legs gave out as she caught an edge just before the finish line and crashed into the finish area, losing her poles along the way.
The demanding course proved to be too much for American Laurenne Ross, who crashed in the middle of the course causing the next racer up, Swede Jessica Lindell-Vikarby, to be flagged and given a rerun. Ross appeared to be uninjured after the fall. Three racers later, the action was stopped once again when German Isabelle Stiepel fell.
Sweden's Anja Paerson, second in yesterday's super G and a strong candidate for the win today, lost the line and missed a gate in the middle of the course. She was joined on the DNF list by Swiss power Dominique Gisin who fell at the top of the course.
World Cup racing in Cortina concludes today with a second super G.
For more details including results go to SkiRacing.com.
Miller second to Cuche in Kitzbuehel downhill
KITZBUEHEL, Austria (Jan. 22 - Ski Racing Magazine News Service) -- Didier Cuche is a man among men. The 36 year old Swiss won the most celebrated ski race for the fourth time Saturday (Jan.22) taking the Kitzbuehel downhill by nearly a second, denying America's Bode Miller the one prize he has yet to claim, that of Hahnenkamm champion.
Adrien Theaux was third earning the first Kitzbuehel downhill podium for a french male in 13 years.
Kitzbuehel's Streif course upheld its reputation as a savage course. It had put Austrian Hans Grugger in hospital and an induced coma from a training crash and six men failed to complete the race, including World Cup standings leader Michael Walchhofer and Canadian Manuel Osborne-Paradis. On a circuit where the start list normally runs in the 70's, just 55 even attempted the challenge.
Cuche not only accepted the task, he attacked the length of the bone rattling Streif for his first win of the season, gaining some redemption for finishing second last week in Wengen's Lauberhorn downhill. He knew as soon as he finished he had put down a world class run. The win matches him with Franz Klammer and Karl Schranz with four DH wins at Kitzbuehel and makes him the oldest racer to win a World Cup race. More importantly to this season, it put him in the lead of the DH standings, moving past Walchhofer and Silvan Zurbriggen.
It was bittersweet for Miller. Despite drawing up easily his best skiing of the season in the one race he needs to flesh out a stunning resume' he was no match for Cuche. But then, no one else was either.
Bode Miller"I didn't take as much risk as he did for sure," said Miller. "He (Cuche) has this course pretty well figured out. He's won here a few times and he takes risks in just the right spots."
"The skis were like rockets," Cuche told Patrick Lang. "It could easily have gone wrong."
He said he was honored to be on the same list as Klammer and Schranz, but said he would have to do "lots more to be considered their equal."
Though Miller doesn't focus on wins and statistics, he did admit this race is one he would like to win. "I was happy when I came across the finish line. I thought I had skied a good race. When this course is as difficult as it is this year more risks tends to lead to making more mistakes and more risk of death or serious injury."
Miller gave Cuche all the credit he could. "You just more or less have to take your hat off. You know you skied a great race and the other person just took more risk, executed better and probably had faster skis. ... I was happy with my race."
The result mirrored 2008 when Cuche also won and Miller was second.
The Austrians missed the podium of their marquee race for the second straight year, perhaps a bit tentative after their teammate's threatening crash in training. Mario Scheiber was fourth with Klaus Kroell, Romed Baumann and Georg Streitberger finishing nine-ten-eleven respectively.
Most disappointing, though, was Walchhofer's DNF and a relatively flat and easy portion of the course. "It was a beginner's fault," he said.
World Cup leader Ivica Kostelic, discovering his speed aptitude at Kitzbuehel with Friday's super G win, tied for 11th to put more room between he and standings leader Aksel Lund Svindal who finished 17th.
Beyond Miller the U.S. group had Ted Ligety adding speed to his repertoire in 27th place while Travis Ganong posted 28th.
Erik Guay led the Candians in 16th while Ben Thomsen got his second career scoring result in 26th.
For more details including results go to SkiRacing.com.
---

178 Comments on "Vail's Vonn third behind Riesch, Mancuso after dodging downhill disaster in Cortina"