Van Garderen cruises to overall USA Pro Challenge win in Denver as Sagan sprints to fourth stage win
For Aspen's Tejay van Garderen , the third time was a charm as he wiped out prior frustration at the USA Pro Challenge and won the event on a sun-splashed final day in Denver.
Slovakian sprinting sensation Peter Sagan once again won the stage – making it four out of seven in this year's USAPC – but van Garderen got the overall victory after finishing third in 2011 and second last year.
"This race really bummed me out the last two years getting in the yellow jersey and then losing it, being so close," van Garderen said. "But now I kind of went 3-2-1, so it was kind of a natural progression, I guess."
The 25-year-old BMC Racing star who earlier this year won the Tour of California and last year finished fifth in the Tour de France is clearly the next big thing in American cycling, putting an emphatic period on the disastrous Lance Armstrong era and its seven-year void in the Tour de France record book.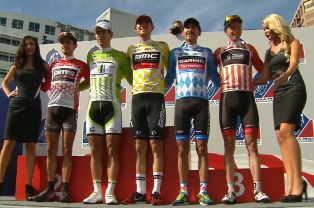 There's a bit of irony, however, that former Boulder resident van Garderen now calls Aspen home with his wife, Jessica Phillips. Armstrong also has made Aspen his second home in the Colorado mountains.
Van Garderen said on Sunday it was amazing to win on home soil.
"Every corner or turn I would hear my name shouted by all these crazy fans, and it was really special to get that kind of crowd support," van Garderen said after finishing with the main peloton on Sunday after seven criterium laps and 72.4 largely ceremonial miles through Denver.
His final margin of victory wound up being the same cushion he built in winning the grueling Vail Pass Time Trial in Stage 5 on Friday: 1 minute, 30 over teammate Mathias Frank and 1:42 over Garmin-Sharp's Tom Danielson.
Now van Garderen hopes to springboard off this success and push for bigger things in the Tour de France.
"It's big," he said of his momentum from two American tour wins. "Obviously, I was disappointed in the Tour [this year]. You have your highs and lows. I'm hoping to come back next year and fight for a higher GC [general classification] place in the Tour."
Asked about his celebration plans on Sunday evening, van Garderen said simply, "We're going big and we're going hard."
Go to the USA Pro Challenge
website
for more results.
---

28 Comments on "Van Garderen cruises to overall USA Pro Challenge win in Denver as Sagan sprints to fourth stage win"