Tour champ Froome looks to dethrone Vande Velde as USA Pro Challenge kicks off in Aspen
The third edition of the USA Pro Challenge cycling race kicks off today (Monday) in Aspen with Tour de France champion Chris Froome of top-ranked Team Sky ProCycling looking to knock off defending Pro Challenge champ Christian Vande Velde and his Boulder-based Team Garmin-Sharp.
The seven-stage race starts with a grueling loop consisting of three 22-mile laps (66 miles total) and 3,080 feet of climbing per lap with minimal recovery time. The Pro Challenge comes to Beaver Creek on Thursday with a 102.9-mile Stage 4 romp that starts in Steamboat Springs.
Then Stage 5 on Friday marks the return of the old Coors Classic Vail Pass Time Trial. Finally, the race concludes Sunday in Denver. Froome has been enjoying some much-needed downtime since winning the 100th Tour de France last month, but his team is ready to compete in the Pro Challenge, despite the huge jump in altitude.
"It's been quite a pleasant surprise coming over here, and a major adjustment in terms of the altitude," Froome said at a recent press conference in Aspen. "You feel better as the days go on, but it adds a whole new dimension to the race. I've never done a race at this kind of altitude before.
"This race is really important to us and we've brought a strong team to be as competitive as we possibly can."
Defending champ Vande Velde, who's retiring after this season, said this race is special to him.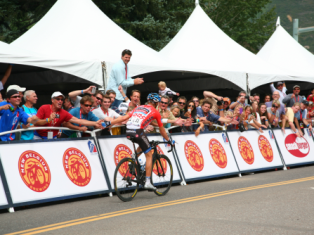 "This race is easily head-and-shoulders above all races and closest to my heart," Vande Velde said. "From the fans to the epic climbs, I couldn't imagine a better race to be my last in the United States. I think it's so special and I can't wait to see how many people come out this year to support."
His teammate, Tom Danielson, went to school in Durango and lives in Boulder. He won last year's stage in Aspen.
"On Team Garmin-Sharp we always win as a team and lose as a team … that one was really a team effort," Danielson said. "The stage into Aspen from Gunnison was one of the top experiences I've had in the history of my professional career. I got to go over Independence Pass by myself in my hometown, in front of tons of fans and then almost lost it all, but dug as deep as I could to pull out the win.
"The crowd really helped me through it. It was really a magical moment coming through the finish line. I couldn't even raise my hands because it was so emotional."
For three years now, Tejay van Garderen of the BMC Racing Team has been considered a pre-race favorite. The Boulder resident also has Aspen ties.
"My wife grew up in Aspen," he said. "We love it here. We're making Aspen a bit more permanent."
As for the race, he's once again in it to win, but expects the competition to be even tougher this year.
"We're definitely taking this race seriously," van Garderen said. "We brought a really strong team and we'd like to win it … that's the ultimate goal. We're obviously going to face some stiff competition with all these people sitting around me [referring to the other riders at the press conference] participating this year."
For more information on the USA Pro Challenge, go to the official website.

---

494 Comments on "Tour champ Froome looks to dethrone Vande Velde as USA Pro Challenge kicks off in Aspen"