Vail gets nod to replace Chair 4 with six-pack chairlift
Vail officials Tuesday received final U.S. Forest Service approval to build a new high-speed, six-passenger Doppelmayr chairlift to replace the four-passenger Mountaintop Express Lift ( Chair 4) from Mid-Vail to to Patrol Headquarters at the top of Vail Mountain.
Construction will begin immediately and the lift will be operational for the 2013-14 ski and snowboard season, officials said.
The new Mountaintop Express Lift will feature loading gates with a right angle load and a loading conveyor system, which has been shown to reduce the number of lift stops and slows and increase the efficiency of the lift.
The systems have been widely used throughout European resorts for years and this will mark the first loading conveyor on a high-speed, six-passenger lift of its kind in North America.
The new lift will result in a 33 percent increase in capacity, or 3,600 people per hour, which is the same capacity as Vail's new Gondola One.
The old Mountaintop Express Lift was installed in 1985 and provides access to Patrol Headquarters and a number of surrounding areas including the Back Bowls and Blue Sky Basin.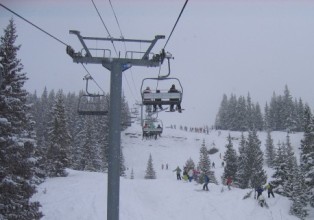 "The Mountaintop Express Lift is one of the busiest lifts on Vail Mountain," said Chris Jarnot, senior vice president and chief operating officer of Vail Mountain. "Upgrading it to a six-passenger lift and adding capacity will make a noticeable improvement in wait times and skier/snowboarder circulation. The use of the loading conveyor, which is a common feature at top European resorts, is an added luxury and reduces the frequency of misloads as well."
The new lower lift terminal of the Mountaintop Express Lift will be located approximately 90 feet to the east of the previous terminal, resulting in a lift maze configuration that will decrease cross-traffic of skiers and snowboarders in the surrounding area. The upper terminal location will undergo minor adjustments to accommodate a more efficient circulation of skiers and snowboarders.
The resort has also received final approval to replace the Gopher Hill Lift (#12), a fixed-grip double chairlift, with a fixed-grip triple chairlift. The Gopher Hill Lift (#12) in Golden Peak – a fixed-grip double Riblet chairlift installed in 1974 – will be replaced by the old Rose Bowl lift (#4) from Beaver Creek, which was removed in the spring of 2011.
The fixed-grip triple Doppelmayr lift will increase capacity by 50 percent over the existing lift, which mostly provides access to the Golden Peak area for beginners as well as access to Vail Village. The lower terminal will be adjusted slightly in both location and elevation to allow beginner guests easier access to the lift and to facilitate better use of both the west and east lift mazes.
"The new triple lift in Golden Peak will allow for twice the capacity of our three to six year olds enrolled in lessons, as they are required to ride the lift with an adult," said Chris Jarnot, senior vice president and chief operating officer of Vail Mountain. "While this upgrade may seem small to our more experienced guests, it's a critical improvement for our newest and youngest visitors to get them on the hill and learning faster."
The majority of both old lifts will be recycled and some components will be kept as spare inventory for Vail or other Vail Resorts mountains.
---

63 Comments on "Vail gets nod to replace Chair 4 with six-pack chairlift"