Arapahoe Basin eyes extending season; Aspen Mountain to re-open for Memorial Day skiing
Snow keeps falling on Colorado high country
Arapahoe Basin is considering extending its ski season beyond the scheduled June 2 closing date, and Aspen Skiing Company on Monday announced it will re-open the top of Aspen Mountain for the Memorial Day weekend.
"We've received nearly four feet of snow since Aspen Mountain closed," Rich Burkley, vice president of mountain operations for Aspen Skiing Company, said in a release on Monday. "In fact, it's snowing at the top of Aspen Mountain right now. If it won't quit snowing, we shouldn't quit skiing."
Heavy spring snowfall has the top of Aspen Mountain covered in snow as the traditional summer operating season begins, so the resort will be open for snow riding May 25-27. With a base depth of 33 inches up top, the mountain will open with 16 runs and nearly 90 acres of mostly intermediate terrain, served by the Ajax Express chairlift.
On Tuesday, May 21, Arapahoe Basin -- which is the only ski area in the state still operating seven days a week -- reported eight inches of new snow in the past three days.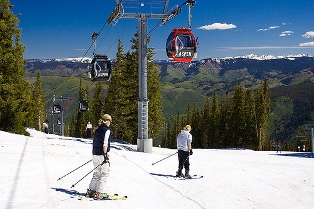 "We will be open seven days a week through June 2," Arapahoe Basin Vice President and COO Alan Henceroth wrote in his blog on Monday. "If we do extend beyond June 2, the decision will be made close to June 2. If we do extend, it will be for long weekends, Friday, Saturday, and Sunday. I am hoping we can extend for on or two weekends. Staying open until July Fourth seems very, very unlikely."
"Tuesday through the Memorial Day weekend looks warmer and drier," according to Opensnow.com.
At Aspen, skiing and riding will be from the 11,212-foot summit with uploading and downloading on the Silver Queen Gondola from 10 a.m. to 2 p.m. The gondola will be running from 10 a.m. until 4 p.m. with last ride down at 4:30 p.m. for regular summer operations.
The Ajax Express chairlift will run from 10 a.m. to 2 p.m. Open runs will include Silver Bell, Pussyfoot, Silver Dip, Blondie's, Dipsy Doodle, Dipsy Headwall, Summit, Buckhorn, Pumphouse, Tourtelotte Park and North American. The Sundeck restaurant and Ajax Tavern will be open for dining and beverages.
Aspen/Snowmass Premier, Premier Silver and 6-and-under passholders ride free with their 2012-13 winter passes. All other Aspen/Snowmass passholders pay a discounted rate for skiing and riding; adult, senior and youth passholders (age 13 and up) will pay $18 and child season passholders (age 4-12) will pay $9. Skiing/riding tickets will be $36 per day for ages 13 and up. Children's (age 4-12) tickets will be $18.
Tickets will be sold at the Aspen Mountain ticket kiosk on Gondola Plaza from 10 a.m. to 4 p.m. Regular summer rates will be in effect for sightseeing tickets. Tickets can also be purchased online at www.aspensnowmass.com and over the phone by calling 970-923-1227.
Four-Mountain Sports, located at 520 E Durant Street, will be renting skis and snowboards for $29/day and will be open for rentals from 9 a.m. to 6 p.m. Or rent skis and a bike on the same day for $50.
---

32 Comments on "Arapahoe Basin eyes extending season; Aspen Mountain to re-open for Memorial Day skiing"