Vail-area electric co-op on track to meet new renewable standard
But other rural electric associations oppose bill awaiting Hickenlooper's signature
At least one rural electric association (REA) isn't lamenting the passage last week of a far more aggressive renewable energy standard (RES) for the rest of the state's member-owned electric co-ops. Holy Cross Energy in Glenwood Springs, serving 55,000 customers from Vail to Aspen, is already on track to meet the new standard of 20 percent renewable power by 2020.
Senate Bill 252, sponsored by Vail-area state Sen. Gail Schwartz, D-Snowmass, and Senate President John Morse, D-Colorado Springs, got final legislative approval last week and now only needs the signature of Gov. John Hickenlooper to become law. As of Monday morning, representatives of the governor had not responded to queries regarding his signature of the bill.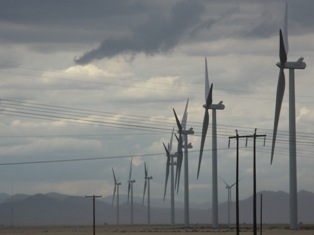 The new law would directly raises the RES from 10 percent to 20 percent by the year 2020 for the state's largest co-ops (100,000 meters or more) and utilities that provide power to most of the state's 22 REAs – namely Tri-State Generation and Transmission.
Holy Cross Energy (HCE) is one of four co-ops that gets the majority of its power from publicly owned Xcel Energy – a Minnesota-based power provider that's on a mandated track of generating 30 percent of its electricity from renewable sources such as wind and solar by 2020.
The board of Holy Cross in 2004, responding to member input, set a self-imposed target of getting 20 percent of its power from renewable sources by the year 2015. A 3-megawatt coal-mine-methane power plant near Paonia that came online late last year pushed HCE past the current 10-percent threshold, Holy Cross CEO Del Worley said in an interview earlier this year.
And an 11.5-megawatt biomass power plant in Gypsum expected to come online at the end of this year will generate another 10 megawatts of clean power for the HCE grid, easily pushing the co-op past the 20-percent mark. Combined with other renewable resources, Worley says HCE will be getting between 23 and 25 percent of its power from renewables by 2014.
"Of course, we count some things that maybe the state doesn't count – the methane being one of them – and some of the existing hydro [power] being another, which is about 3 percent that we've had for years and years," Worley said in an earlier interview. "We count that because, in our opinion, it's a renewable, or clean energy."
However, SB 252 (pdf) includes provisions for the generation of electricity from captured methane gas from coal mines and solid municipal waste. And biomass – the high-heat gasification of wood waste -- is already an eligible resource under the state's RES. The bill also puts in place the first distributed generation requirement for rural Colorado, including technologies such as rooftop solar and community wind farms.
"Expanding and enhancing the renewable standard will encourage additional investment, help create jobs, and help diversify our economy while ensuring Coloradans across the entire state will share in the environmental and economic benefits of clean wind and solar energy," Pete Maysmith, executive director of Conservation Colorado, said in a press release.
However, Kent Singer, executive director of the Colorado Rural Electric Association (CREA), did not support the legislation.
"While the cost of renewable energy has come down in recent years, it is still considerably higher than energy from conventional, i.e., coal and natural gas, power plants," Singer wrote. "Colorado's electric co-ops support renewable energy and energy efficiency, but we oppose inflexible legislative mandates that do not take into account the unique characteristics of each electric co-op system."
Co-op members and administrators are fearful that the bill's consumer protection provision won't be able to keep rate hikes to a maximum of 2-percent per year. Comments on CREA's Facebook page on Thursday were urging Hickenlooper to veto the legislation.
But proponents say more renewables will only reduce costs for consumers in the long run as conventional fossil fuels become more and more expensive.
"With its world-class wind and solar resources, Colorado is a leader on clean energy development," Sarah Propst, executive director of the Interwest Energy Alliance, said in a release. "The Colorado General Assembly showed tremendous leadership in passing legislation to enhance the state's economic competitiveness. We encourage the governor to sign SB 252 without delay."
The state's largest REA -- the 140.000-member Intermountain Rural Electric Association along the Front Range between southern Denver and northern Colorado Springs – opposes the bill.
"Neither IREA nor the other Colorado co-ops affected by SB 13-252 oppose it out of a reflexive opposition to renewable energy," IREA officials wrote on the co-op's website. "This bill imposes an arbitrary timeline for implementation of standards and requires expenditures on politically-favored resources regardless of the consequences."
The majority of the IREA's board and some of its more vocal staff members have long opposed renewable energy mandates, going so far as to argue that global warming is fraudulent.
---

8 Comments on "Vail-area electric co-op on track to meet new renewable standard"