Conditions decent, but Vail still lagging on snowfall front
Vail to keep 4,600 acres open until closing day on April 14
Anecdotal evidence – i.e., the frequency of powder days – seems to suggest that this ski season has been a lot better than the record-dry season of 2011-12. But the stats tell a different story.
Vail reported one inch of new snow Wednesday morning to bring the 2012-13 season total to 250 inches. Beaver Creek got a surprise nine inches for a seasonal total of 233. By comparison, on April 6 of last year Vail had received a scant 213 inches – three feet less than this season.
But Vail averages 350 inches a year, meaning the resort needs 100 inches -- or more than eight feet of new snow -- between now and the end of the season on April 14 just to reach its annual average.
Still, for most snow riders, 250 is unquestionably better than 213. But combine the last two seasons (463 inches) and together they don't come close to the
record 511 inches
Vail received in 2010-11. That's worth repeating: the last two seasons combined don't equal the record snowfall season of three years ago.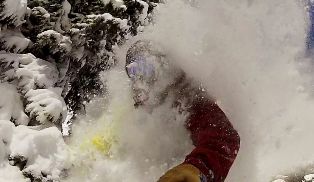 On
April 6 of last year
the Back Bowls and Blue Sky Basin were already closed, the Vail Nordic Center had shut down and resort officials were struggling just to keep the front side of the mountain open. That's because there was no measurable snowfall for a month from March to April.
This season Vail will keep most of the mountain -- 4,600 acres -- open until closing day. Beaver Creek will keep 850 acres open, and both mountains stay open until Sunday, April 14, this season.
"After the conditions we experienced last season and the first half of this one, we felt it would be a shame to close down terrain as we typically would with the great snow we still have on the mountain," said Chris Jarnot, senior vice president and chief operating officer of Vail Mountain. "Keeping virtually the entire mountain open is an enormous thank you to our pass-holders for a great season."
There hasn't been a ton of spring snow this season, but at least there's been some, and forecasters are calling for a series of storms this weekend and early next week – just in time to finish the season strong.
Tuesday night's storm was strange, with Vail receiving so little and Beaver Creek getting so much.
"Convection is awesome," wrote Joel Gratz of
Opensnow.com
. "We had reports of 9 inches and 1 inch separated by about seven miles. Impossible to predict, but fun to ski. Today [Wednesday] through Friday afternoon will be dry, then two storms bring snow this weekend: one on Friday night and another Saturday night. I think Sunday will be on the drier side, then there's a good chance for more snow for most of the state Monday through Wednesday, April 8-10."
That would make for decent conditions closing weekend. At Vail, Sublime with Rome, O.A.R and Jimmy Cliff will play free
Spring Back to Vail
concerts April 12-14 to close out the 50th anniversary season.
---

37 Comments on "Conditions decent, but Vail still lagging on snowfall front"