Shiffrin nabs first World Cup win in Are night slalom
ARE, Sweden -- Teen sensation Mikaela Shiffrin, of Eagle-Vail, scored her first ever World Cup victory Thursday night, taking a slalom win under the lights in Are.
The 17-year-old Shiffrin came back from a .15 deficit in the first run to ski a literally flawless second run and post a .29-second win over Sweden's Frida Hansdotter. The win boosted Shiffrin into the World Cup slalom lead going into the holiday break.
"I was just trying to fly," Shiffrin said. "I couldn't imagine what winning (a World Cup race) would feel like. I only knew the feeling of knowing you've skied your best."
At 17 years, nine months and seven days, Shiffrin became the third youngest American to win an alpine World Cup behind Kiki Cutter (16 years, seven months, one day) and Judy Nagel (17 years, five months, 12 days).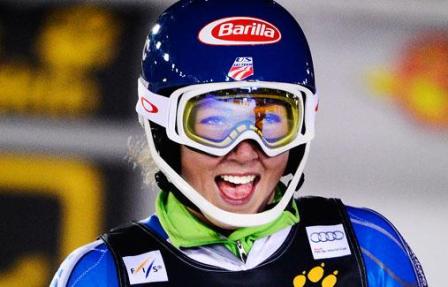 Diann Roffe was also only 17 when she won her first World Cup, and Tamara McKinney and Cindy Nelson both won for the first time at age 18, Vail's Lindsey Vonn was 20 when she won her first World Cup, and has gone on to win 56 more -- although she is currently taking a break from the tour.
"My mom is my biggest help," Shiffrin said. "She keeps me focused and grounded. I'm sure she'll talk to me in the next couple of days to make sure my head doesn't get too big. Right now I want to hug her a lot. She'll be here for Christmas with my dad. Right now I just need to calm down and regroup."
The Audi FIS Alpine World Cup next travels to Semmering, Austria, just outside Vienna, for a giant slalom and slalom Dec. 28-29.
Cutter was the youngest American to win World Cup when she won Oslo slalom in 1968 -- the first World Cup win ever by an American.
"I met Mikaela last summer and she is indeed a great kid with a wonderful ski future in front of her," Cutter said. "I am sure that we are going to see many more victories from Mikaela."
Cutter reflected on what it meant when she won her first World Cup.
"I really did not realize what a big deal it was to win the first World Cup of any American," she said. "But when I got off the plane Billy Kidd congratulated me and I thought that was pretty cool. Plus, I met King Olaf and that was huge -- a little girl from Bend meeting a king. Doesn't get much better than that."
---

94 Comments on "Shiffrin nabs first World Cup win in Are night slalom"