Vail set to open Back Bowls on Saturday
Beaver Creek to open Grouse Mountain on Friday, Larkspur Bowl on Saturday
Vail officials on Thursday announced that Sun Up and Sun Down Bowls will open for skiing on Saturday.
Posting on the Vail Mountain
Facebook
page, Vail officials at about noon on Thursday answered the biggest burning question of the week, saying Chairs 5 and 17 will open on Saturday, and promising more information later.
Both Vail and Beaver Creek has received about four feet of snow since Dec. 7, jump starting what had been a very slow start to the season on Nov. 16.
Beaver Creek has received 44 inches of snow in December and is now nearly a foot ahead of its 12-year, month-to-date snowfall average. Resort officials announced Thursday afternoon that Grouse Mountain will open on Friday, giving Beaver Creek more than 1,000 skiable acres, and that Larkspur Bowl will open Saturday, taking the acreage to more than 1,300, or 72 percent of all the area's terrain.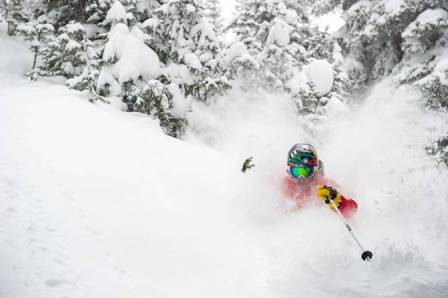 Vail's Back Bowls did not open until mid-January last season. With Sun Up and Sun Down opening, Vail will boast more than 2,500 skiable acres as of Saturday.
The news comes right before the critical Christmas and New Year's holidays, when large numbers of guests descend on the Vail Valley for skiing and snowboarding at Vail and Beaver Creek.
More than two feet of new snow started falling last weekend and ended Wednesday evening. Most of the front side of Vail Mountain is already open.
"These storms could not have been timed more perfectly. With more than two feet of new snow in the past week and more snow in the forecast, the skiing and riding at Vail Mountain over the holidays should be fantastic," Chris Jarnot, senior vice president and chief operating officer of Vail Mountain, said in a subsequent press release.
"We're thrilled to be able to open Vail's legendary Sun Up and Sun Down bowls for all of our holiday guests and are hopeful that we'll be able to open even more terrain soon."
After sunny, dry weather Thursday through Saturday, Opensnow.com is forecasting another significant storm starting Sunday and running through Christmas Day.
The majority of Sun Up and Sun Down bowls will be open, according to Vail officials, but closures will exist and snow riders are being advised to observe and obey all closures.
Also on Saturday at Vail, the Bwana Terrain Park will open, offering a total of 12 snow, box and rail features, including a top to bottom beginner line as well as intermediate features.
---

40 Comments on "Vail set to open Back Bowls on Saturday"