Vail Time Trial to return for 2013 USA Pro Challenge
Beaver Creek also back for next year's cycling stage race
The iconic Vail Time Trial, a Coors Classic stage in the 1980s, will once again be part of the USA Pro Challenge cycling stage race, organizers announced in Aspen on Wednesday.
The stage was part of the first USAPC in 2011 and proved pivotal as Levi Leipheimer took the lead and went on to win the race, but it was dropped in favor of a dramatic last-stage time trial in Denver in 2012.
Boulder's Taylor Phinney won that stage, but Christian Vande Velde, of Boulder-based Garmin-Sharp, came from behind to win the overall general classification.
Leipheimer, as well some Vail officials, lamented the axing of the Vail Time Trial last year, but USAPC CEO Shawn Hunter promised it would be back.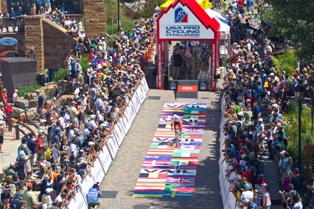 Also returning for the August, 2013, seven-stage race is a finish in Beaver Creek, which hosted an uphill finish in 2012. That road stage began in Aspen, but next year's USAPC will include a Steamboat-to-Beaver Creek Stage 4 before the Stage 5 individual time trial starting in Vail the next day and ending on Vail Pass.
"We are extremely pleased to be able to bring the time trial back to Vail," said Ceil Folz, president of the Vail Valley Foundation and president of the Vail and Beaver Creek Organizing Committee for the USAPC. "Not only was it one of the most exciting and historic stages of the inaugural tour, but it is also a very challenging course for the riders given its uphill nature."
In 2011, Leipheimer edged runner-up Vande Velde by .58 seconds to take the win in front of an estimated 30,000 spectators. Vande Velde then beat out Tejay van Garderen and Leipheimer this year, and says he'll be back to defend his title next year.
"When you combine the high-altitude climbs, the enthusiasm of the crowds and the level of competition, the USA Pro Challenge is one of my favorite race weeks," Vande Velde said. "I can't wait to get back in 2013 and defend the title with my Garmin-Sharp teammates."
He'll likely have some significant new competition in the form of defending Tour de France champion and Olympic gold medalist Bradley Wiggins. The Denver Post is reporting Wiggins' Team Sky will compete in the 2013 USAPC.
"Vail is very excited to once again play host to the USA Pro Cycling Challenge," Vail Mayor Andy Daly said, "and we are very pleased to be able to showcase our community via our iconic time trial course. We obviously have a legacy of hosting world class events and the USA Pro Cycling Challenge most certainly enhances the Vail Valley's storied cycling history."
The 2013 race will start with a circuit in Aspen and end seven days later with a circuit race in Denver. New next year will be stage in Loveland and Fort Collins replacing this year's Boulder stage.
---

95 Comments on "Vail Time Trial to return for 2013 USA Pro Challenge"