After nearly two feet of new snow, Vail, Beaver Creek eye next storm this weekend
Since it started snowing late last week, Vail has received 20 inches of fresh snow and Beaver Creek checked in with 22 new. Vail saw six inches new just on Monday, and the Beav' received four new.
That's great news for the upcoming holiday season, but it comes with a disclaimer. Before the recent storm cycle Vail and Beaver Creek were virtually snow-free for nearly a month. That means the recent snow is merely allowing mountain ops crews to play catch-up.
The hope and expectation is that the Back Bowls will be open by Christmas if the current favorable jet stream remains in place, but in the meantime crews at Vail are just scrambling to open the front side of the mountain.
"At this point we don't have an estimate on when the Bowls will open but this snowfall is certainly getting us closer," Vail officials posted on the resort's
Facebook
page on Monday. In all likelihood it will take at least one or two more storm cycles like the one that just passed through the Vail Valley.
The recent storm cycle also brought dramatically lower temperatures, meaning snowmaking crews have been able to start working around the clock at both Vail and Beaver Creek. Still, much more natural snow is necessary, especially on south and west-facing slopes that get more sun throughout the day.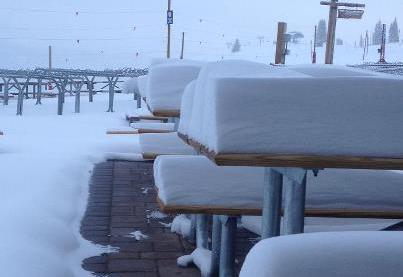 Forecasters are calling for a clearing trend through Thursday, with another storm moving up from the south and west on Friday. That storm will likely favor the southern San Juans more so than the northern and central mountains around Vail and Aspen. Still.
Opensnow.com
is calling for several inches of new snow by Saturday.
Then another storm is headed our way Sunday night into Monday, and still more is in the forecast for the rest of next week.
"These storms are 7-10 days away, so I have no ability to forecast the details, but the pattern looks good for consistent chances of snow and that's all that we can ask for," writes Opensnow.com's Joel Gratz.
As for additional terrain at Vail, officials are calling for a slow rollout of front-side lifts and terrain the rest of this week, starting with Chair 4 on Tuesday after Chair 3 opened on Monday:
"Chair 4 [today], and further lifts hopefully by the weekend … we need a bit more snow, especially on the west-facing aspects. We'll have more info for you by the end of the week; trust us, patrol is doing everything they can to get terrain open safely."
For anyone thinking about back-country skiing, consider this: Vail has received 52 inches of snow so far this season, but 32 of those came before Nov. 10, and then it was very dry and very warm for nearly a month. That means the recent 20 inches is sitting top of a very rotten base. Plus, extremely early season conditions will exist in the woods, where that is not nearly enough snow to cover over all the stumps and downed beetle-kill trees.
The
Colorado Avalanche Information Center
on Tuesday rated the avalanche danger in the Vail-Summit County region as "considerable."
Also, check out the Vail and Beaver Creek Ski Patrol's Avalanche Awareness Series this month (starting Tuesday night at Vail Cascade), where the super-sketchy early-season snowpack will no doubt be one of the
main topics of conversation
.
Last season, one of the driest on record, Vail's Back Bowls didn't open until January. The season before that – the snowiest ever – Vail saw the majority of its terrain open by Christmas.
When Vail opened for the first time 50 years ago on Dec. 15, 1962, there was very little natural snow, and absolutely no snowmaking.
Vail marks its 50th anniversary this week with a high-quality Snow Daze concert lineup and celebrations throughout the coming weekend. For more information or to get tickets, go to Vail's 50th anniversary
website
.
Elsewhere around the state, ski areas that had pushed back opening days because of a lack of early snow are now starting to come online.
Aspen Highlands
, Monarch and Ski Sunlight all plan to open on Friday.
---

8 Comments on "After nearly two feet of new snow, Vail, Beaver Creek eye next storm this weekend"