Vail, Beaver Creek blessed by blast of winter
Storm track favorable for more snow throughout December
After nearly a month of unusually warm, dry weather, Mother Nature's snow machine is finally back on in a big way at Vail and Beaver Creek, and conditions are rapidly improving for the upcoming holidays.
A couple of small storms got things started last week, but then the weekend saw a total of 10 inches of new snow at Vail and 13 at Beaver Creek. Vail has received 16 inches of natural snow in the last week and Beaver Creek reported 20.
Another storm is dropping into Colorado from the north on Monday, and up to eight inches of new snow could fall by Tuesday morning. Then yet another storm is headed into the Vail Valley Thursday night through Saturday.
On Monday, Vail Ski Patrol planned to open more runs off of Chair 2, as well as to crank up Chair 3 for the first time this season, according to Vail's Facebook page.
Beaver Creek on Sunday opened eight more trails for a total of 341 acres of terrain, 20 trails and six main lifts, plus eight surface lifts.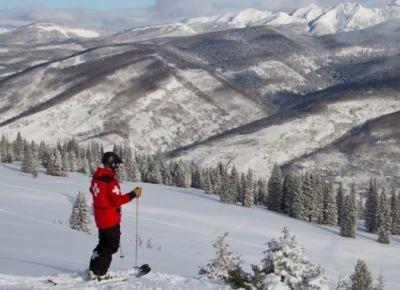 Temperatures dipped into the single digits overnight, providing snowmaking crews ideal conditions to maximize coverage.
After Monday's shot of new snow, skies are forecast to clear throughout the day Wednesday and Thursday, with the next major storm heading in Thursday night through Saturday. The jet stream now looks favorable throughout the month of December.
"Don't worry, because there are more storms coming during the third week of December," Opensnow.com reports. "We should be in pretty good shape around Colorado by Christmas week (if not before) as there will be consistent chilly temperatures and snow every few days between now and then."
The snow arrived just in time as Vail prepares to celebrate its 50th anniversary on Saturday. The week leading up to the 50th celebration kicks off Snow Daze Monday through Sunday, including concerts from The Shins on Thursday, Michael Franti and Spearhead on Friday and headliner act Wilco on Saturday.
In addition to Snow Daze, guests can reserve tickets for the world premiere of Roger Cotton Brown's film, "Vail, the Rise of America's Iconic Ski Resort," on Friday and join in a live, public celebration of Vail's 50th anniversary on Saturday at 5:30 p.m. in Mountain Plaza.
For more details on 50th events, visit www.vail.com/50th. To buy Snow Daze tickets, reserve film tickets or for general information on Vail, go to www.vail.com or call (970) SKI-VAIL (754-8245).
---

14 Comments on "Vail, Beaver Creek blessed by blast of winter"