Vonn, Mancuso finish 1-3 in St. Moritz super G
The good news is Vail's Lindsey Vonn seems fully recovered from last month's stomach issues -- claiming her fourth World Cup win of the season Saturday in a super G at St. Moritz, Switzerland. The bad news is Slovenia's Tina Maze is skiing better in all disciplines right now.
Maze, who has three wins on the season, including a super combined Friday in St. Moritz, finished second on Saturday between Vonn and Squaw Valley's Julia Mancuso. So far Maze has increased her overall lead this weekend by 80 points on overall defending champ Vonn, who skied out in the slalom portion of Friday's combined.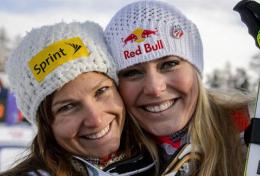 "I was definitely disappointed after yesterday's race," said Vonn, who sits third in the overall hunt, 167 behind Maze. "I skied too conservatively in the super G and didn't really have anything going on in slalom. Today I came out charging, I knew that it was gong to be really difficult to win."
Vonn skied a tactically perfect weather-shortened super G Saturday to capture her 57th career World Cup victory, just five behind the career women's record of 62. Mancuso continued the U.S. Ski Team's speed dominance with third, the fourth straight World Cup speed race where two U.S. athletes have been in the top three. Maze was just .37 seconds behind Vonn.
"The other girls are skiing so well," Vonn said. "Tina and Julia and Maria [Hoefl-Riesch, who is second in the overall chase]. It has been a tight field in super G. I'm definitely going to have to fight hard. The way Tina has been skiing is really great for the sport. I have a lot of respect for her and she is obviously skiing well in all five events. I'm only skiing well at the moment in downhill and super G."
Saturday was the 20th super G win of Vonn's career, a women's record. Mancuso was third for her second super G podium of the season. American women have now captured eight of the possible 12 podium finishes this season in speed races.
"I like super G a lot and it's been good for me this year with my new equipment," Mancuso said. "I'm having fun. It was good that we had downhill [at Lake Louise] before super G because I was really able to figure out what was working. Now that I have figured it out more, hopefully other disciplines like GS will be good too."
The women wrap up the St. Moritz weekend with a GS on Sunday.
"We just have a really good set-up now, with great coaches," Mancuso added. "We have a great role model like Lindsey to look up to. So, it's just helping everyone to be fast."
---

66 Comments on "Vonn, Mancuso finish 1-3 in St. Moritz super G"