Vonn back on skis this weekend, but Miller doubtful for Birds of Prey
Vail's Lindsey Vonn has recovered enough from an undisclosed illness that she'll be able to get out on skis this weekend in Vail.
"Lindsey is doing much better and is planning on free skiing this weekend," spokesman Lewis Kay said by email. "If all goes well, she will resume her normal training regimen next week."
Vonn was admitted to the Vail Valley Medical Center Monday and Tuesday nights for treatment and testing after complaining of severe intestinal pain. No word yet on what caused the illness that has curtailed her training since the World Cup opener in Soelden, Austria on Oct. 27.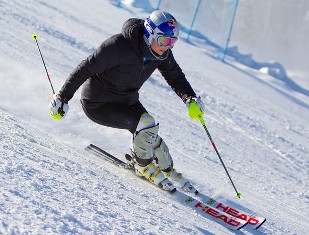 The 2010 Olympic downhill gold medalist was released from the hospital Wednesday but was unable to attend the U.S. Ski Team First Tracks event in Vail on Thursday evening.
If she's able to train this week, that means the four-time overall World Cup champion will be back on track to race in the women's World Cup GS and slalom races in Aspen Nov. 24-25.
The news isn't quite as good for fans of the men's circuit. Bode Miller, the defending downhill champion on the Birds of Prey course at Beaver Creek and an Olympic gold medalist in his own right, is still recovering from knee surgery in Vail last spring and definitely won't race in Lake Louise, Canada on Nov. 24-25.
According to the Associated Press, Miller is also doubtful to for the Birds of Prey World Cup races at Beaver Creek Nov. 20-Dec. 2.
Ask him when he hopes to return and he'll just smirk, AP reported on Friday.
"Hope doesn't play much part in it. You can hope for a (winning) Megabucks ticket, or hope for anything else," Miller told the AP. "The fact is it's an injury that takes a long time to heal. If you come back too soon, you really do risk undoing the surgery and putting yourself back to square one."
---

5 Comments on "Vonn back on skis this weekend, but Miller doubtful for Birds of Prey"