Third in World Cup slalom in Levi, Eagle-Vail's Shiffrin sets sights on Aspen
Vonn admitted to Vail hospital with undisclosed illness
Eagle-Vail's Mikaela Shiffrin will be among the favorites Thanksgiving weekend when the women's World Cup hits Aspen for the annual Winternational giant slalom and slalom races on Aspen Mountain.
Shiffrin, just 17, collected her second career World Cup podium in Levi, Finland Saturday, finishing third behind Germany's Maria Hoefl-Riesch and Finland's Tanja Poutianen.
Last year at Aspen, Shiffrin, 16 at the time, scored a top-10 finish with an eighth in the slalom. Later in the season she grabbed her first World Cup podium with a third in Lienz, Austria. The young racer appears poised for her first career World Cup win.
"I cannot wait to get home to Colorado, to train in Vail and to race in Aspen," Shiffrin said after her podium in Levi on Saturday. "I love this early season time over there. It's just beautiful. Maybe it's the smell of the air or something, but it just feels like home."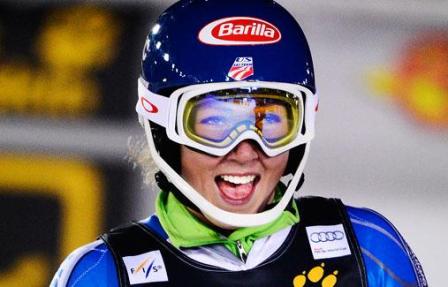 Vail's Lindsey Vonn skipped Levi to stay home in Colorado and train for Aspen, where she's never won or even been on the podium. Vonn skipped the slalom in Aspen last year with a bad back after finishing a disappointing 12th in a GS in which teammate Julia Mancuso was third.
On Friday, Vonn had to cancel an EpicMix Racing pacesetting event at Vail's Golden Peak. Resort officials said she was "down with a bad bug."

A Vonn spokesman on Monday said she was admitted to the Vail Valley Medical Center with an "undisclosed illness."

In just her 12th World Cup start, Burke Mountain Academy's Shiffrin was third after the first run in Levi on Saturday, .74 second behind the leader. She held onto that spot in the second run.
"I felt confident because I had a plan to just ski like I do in training and I knew I could do that," Shiffrin said. "I wasn't worried about what place I was going to come in. I was definitely nervous but I knew I could execute my plan."
Women's technical head coach Roland Pfeifer said Shiffrin was frustrated after the World Cup opener last month in Soelden after she failed to qualify for a second run of GS. But he liked her bounce-back in the slalom on Saturday.
"She has a full team of coaches here to support her and she knows the expectations we all have on her," Pfeifer said. "In the end, it's up to her to ski the way she knows she can and she did that in Levi. I couldn't be more proud of her.
"We'll be back in Colorado on Tuesday and begin training again with [U.S. Ski Team tech standout] Resi [Stiegler] to start our preparation for Aspen."
Ski team athletes will be greeted by a much snowier scene when they get back to Colorado next week. A winter storm rolled in late Friday, dumping several inches of fresh snow on the northern and central mountains and a foot and half of new snow at Wolf Creek in southern Colorado, where resort officials are promising an opening day announcement this weekend.
Breckenridge opened for the season on Friday, joining Keystone, Arapahoe Basin, Loveland and Copper Mountain. Vail opens Friday, Nov. 16, and Beaver Creek opens on Wednesday, Nov. 21.
Aspen opens on Thanksgiving Day (Nov. 22), and the Aspen Winternational World Cup is set for Saturday and Sunday, Nov. 24-25. Call (855) 218-4835 for lodging information, or click here.
---

0 Comments on "Third in World Cup slalom in Levi, Eagle-Vail's Shiffrin sets sights on Aspen"
Be the first to comment below.