Stavney, Ryan victorious in Eagle County commissioner races
Eagle County Tuesday once again elected a full slate of Democrats to the board of county commissioners, easily re-electing Jon Stavney to a second term and also picking newcomer Jill Ryan over Republican Jeff Layman.
"A lot of people in the county respect the fact that we've gone about business and we're getting it done in a respectful fashion," said Stavney, who beat out Republican attorney Courtney Holm 11,653 to 8,779 with nearly 90 percent of the vote tabulated.
The Eagle County website was reporting results from 22,627 of 24,362 active voters as of 10:30 a.m. Wednesday.
Stavney, a former Eagle Town Board member and mayor of Eagle, beat out Holm in the mid-valley District 2.
"I'm not a flashy guy. I'm not Tom Stone. I'm not Arn Menconi," Stavney said, referring to two former commissioners who often engaged in heated partisan battles. "I've got a nice smile and I'm kind and I think that's how things get done. [Voters] don't want the people governing them to be a soap opera."
In the up-valley District 1, where Democrat Peter Runyon was term-limited and could not run again, Democratic health policy consultant Ryan beat out former Avon Police Chief Layman 9,588 to 9,049 with most of the ballots counted. Independent Dale Nelson had pulled in nearly 2,000 votes.
Ryan joins incumbent independent Sara Fisher, whose seat wasn't up for re-election, on a majority female three-member board.
In the only town board election on Tuesday, incumbent Avon Town Council member Albert "Buz" Reynolds (824) and political newcomer Jennie Fancher (827) were the top vote-getters in a five-way race for three seats. Jake Wolf (626) and Matt Gennett (622) were still battling for the final spot as of 10:30 a.m. Wednesday.
Clear Creek County defense attorney Bruce Brown was leading prosecutor Scott Turner 10,477 to 9,415 in the Fifth Judicial District's most populous county. The district also include Summit, Clear Creek and Lake counties, where Brown – running for the second time after losing to Mark Hurlbert in 2004 – was also reportedly leading Wednesday morning.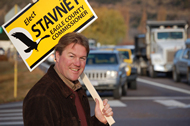 Eagle County voters also helped Democrat Diane Mitsch Bush, a Routt County commissioner, win the newly created State House District 26, which includes both Eagle and Routt counties. Mitsch Bush beat out retired chemical engineer Chuck McConnell in Eagle County by a 10,928-to-9,334 margin with most of the votes in, and claimed the new district 56 to 44 percent overall.
Mitsch Bush will be part of a new Democratic majority in the Colorado State House of Representatives, where openly gay Denver Democrat Mark Ferrandino will take over as Speaker of the House and is likely to try to pass a civil unions or even gay marriage bill this coming session. A civil unions bill passed the State Senate last session but was killed in the House.
"We are going to take any idea – Democrat, Republican, independent – to move Colorado forward," Ferrandino said Tuesday night, according to a press release from the Democratic Party. "We are not going to run the House like we saw this last year. We're going run it so the people of Colorado can be proud of their House of Representatives."
Also on the statewide ballot, Eagle County voters backed the legalization of small amounts of recreational marijuana (Amendment 64) by a significant margin. The new law will, according to some analysts, be tricky to implement given the national prohibition against marijuana.
"The voters have spoken and we have to respect their will. This will be a complicated process, but we intend to follow through," Gov. John Hickenlooper said in a prepared statement. "That said, federal law still says marijuana is an illegal drug, so don't break out the Cheetos or gold fish too quickly."
Nationally, Eagle County continued its steady blue move in recent years, voting for President Barack Obama 12,598 to 9,317 for Mitt Romney after picking Obama in 2008 and John Kerry in 2004.
At the U.S. congressional level, the eastern half of Eagle County overwhelmingly picked openly gay Boulder Democrat Jared Polis, an Internet entrepreneur, to once again represent the upper Vail Valley in the 2nd Congressional District.
The western half of Eagle County, which was split in redistricting last year, appeared to be narrowly leaning toward Pueblo Democratic state representative Sal Pace, although incumbent Republican businessman Scott Tipton, of Cortez, held onto his 3rd Congressional District seat.
For the very latest election results, check out the Eagle County website.
---

2 Comments on "Stavney, Ryan victorious in Eagle County commissioner races"