Ligety wins Soelden GS by huge margin
Ties Rahlves for third most career victories among American men
Apparently the new skis are not going to be a problem for Ted Ligety, who dominated the World Cup opener giant slalom in Soelden, Austria on Sunday by nearly three seconds over second-place finisher Manfred Moelgg of Italy.
Ligety turned in a two-run time of 2 minutes, 36.02 seconds on the longer GS skis with a longer turn radius mandated for safety reasons by the International Ski Federation (FIS) this season. Moelgg was 2.75 seconds back at 2:38.77, and Austria's Marcel Hirscher – the defending overall World Cup champion -- was third with a time of 2:39.14.
"I've been working really hard on these new skis to get to the point where I knew I was going to be among the best," Ligety said. "I can't expect anything like this. This is kind of a once-in-a-career kind of margin."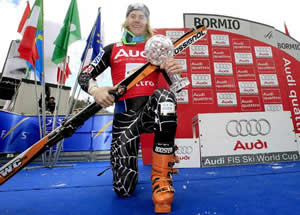 Ligety said he went all out in his second run, skiing dangerously on the edge given the tough, snowy conditions on the Rettenbach Glacier.
"I was just taking a ton of risk and luckily it paid off," said Ligety, who successfully defended his win in Soelden last season. "In hindsight it might not have been the smartest approach because it would have been pretty easy to go out any time there."
The 28-year-old Park City racer tied Daron Rahlves for third among American men with 12 career World Cup wins behind only Phil Mahre (27) and Bode Miller (33).
Ligety has now won twice at Soelden and twice at Beaver Creek, where he won last season and will race again during the Birds of Prey World Cup weekend Nov. 30 through Dec. 2.
A three-time GS World Cup discipline winner and the defending 2011 GS world champion, all of Ligety's 12 career wins have come in GS. He also won a gold medal in the combined event at the 2006 Winter Olympics in Torino, Italy.
---

0 Comments on "Ligety wins Soelden GS by huge margin"
Be the first to comment below.