Maze wins again at Soelden as Americans struggle mightily
Slovenia's Tina Maze won a giant slalom in tough conditions on the Rettenbach Glacier in Soelden, Austria Saturday, as the American squad struggled in poor visibility and failed to score any points in the 2012-13 World Cup opener.
Defending Soelden and overall World Cup champion Lindsey Vonn, of Vail, was off the pace (12th) in the first run before going out in the second run after hooking her left hand on a gate. Squaw Valley's Julia Mancuso, a 2006 Olympic gold medalist in GS, lost a ski and went down in the first run.
Austrians Kathrin Zettel and Stefanie Koehle were second and third, respectively. The win was Maze's 12th career victory and third at Soelden, including her first career victory in 2002. Maze was a double silver medalist at the 2010 Olympics in Vancouver, including in GS.
Eagle-Vail's Mikaela Shiffrin, a 17-year-old racing for the first time at Soelden, missed the top 30 and a spot in the second-run final by .01 seconds.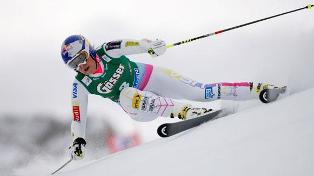 "I have to say, I'm a little bummed," Shiffrin said. "I've been training fast, but it's what matters in a race and that wasn't quite what I was looking for. I feel like I'm skiing well and just in general my skiing is better than it was last year by a long shot so I'm really looking forward to the season in both giant slalom and slalom."
Vonn won her first GS ever last season at Soelden en route to claiming her fourth overall title.
"Last year was definitely a surprise for me to win here in Soelden," said Vonn, who's not as dominant in tech events (slalom, GS). "But with the new skis this year, I didn't know what to expect.
"Training had been going really well and I just didn't execute it today. I have to fight harder than I did today – lesson learned. I'm happy and I'm just going to try and get ready for the next races."
The women were racing for the first time on longer GS skis with a longer turn radius. The International Ski Federation (FIS) mandated the new skis last season in order to cut down on injuries, but the move has been controversial.
"I love the new skis," Shiffrin said. "I don't think it's that big enough of a difference to really be hard to ski. You have to be more disciplined with your technique but in the end I think they're more stable and faster."
Mancuso didn't blame her bad luck on the new skis.
"It's a first for me [to lose a ski first run], so I'll take it as a first and a last since it was the first race of the season," Mancuso said. "Nine out of 10 times your ski might stay on. It was sort of the perfect storm. I was going to make a transition and it was bumpy. My ski just caught the other ski and clicked off.
"I know that the speed is there so I just have to make it to the finish next time. I have a lot of confidence and I'll just save it for Aspen."
Next up for the women is a slalom in Levi, Finland on Nov. 10, followed by a slalom and GS Nov. 24-25 in Aspen. The men, minus a recuperating Bode Miller, race GS in Soelden on Sunday.
---

2 Comments on "Maze wins again at Soelden as Americans struggle mightily"