With seven inches new, Beaver Creek fires up snowmaking guns on Birds of Prey course
Vail reports five new at Mid-Vail
Beaver Creek snowmaking crews cranked up the resort's snow guns for the first time this season Wednesday night, adding to a blast from Mother Nature that dropped seven inches of real snow on the top of the mountain.
Vail officials said five inches of new snow fell at Mid-Vail. Vail began snowmaking operations on Golden Peak on Oct. 6 in a bid to get the race hill online for U.S. Ski Team training later this month.
Vail opens to the public on Friday, Nov. 16, and Beaver Creek follows soon after on Wednesday, Nov. 21.
More natural snow is in the forecast, and the Vail Valley is still under a Winter Storm Advisory through Friday.
Loveland Ski Area and Arapahoe Basin -- the only two resorts currently open to the public -- reported three inches new and two inches new, respectively, as of 5 a.m. Thursday.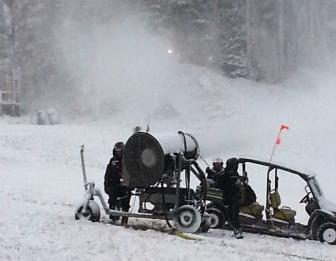 Copper Mountain, Keystone and Wolf Creek are all scheduled to open to the public on Friday, Nov. 2. However, Copper will open its new U.S. Ski Team Speed Center for race training on Wednesday, Oct. 31 -- nearly two weeks earlier than it debuted last season.
"Last year we had a few good days on the Speed Center before heading to Lake Louise to start our World Cup season, but this year we should be able to have a few good weeks with World Cup snow conditions and terrain," speed specialist Marco Sullivan said in a press release.
"The facility is invaluable for our development pipeline," he added. "In the past we trained downhill from six to eight in the morning and none of the young racers who trained later in the day even knew we were there. Now we're having midday sessions and the club kids can come over and watch some of the best downhillers in the world. I learned a lot like that while I was young. It's inspiring for kids to see what the top level is doing."
Following the first season of training on the new Copper Mountain venue, as well as technical event (slalom and giant slalom) training at Vail's Golden Peak, the U.S. Ski Team produced seven World Cup wins, four other podiums and 10 additional top 10 finishes all before mid December last year.
Vail's Lindsey Vonn went on to win her fifth straight downhill title, fourth consecutive super G crown and the women's downhill team would lead the nation's standings for downhill by 636 points over Austria, with Julia Mancuso finishing second in super G and fifth in downhill.
Bode Miller also benefited from early season Colorado training by winning the Audi Birds of Prey downhill in early December at Beaver Creek, while Ted Ligety was first and second in two World Cup giant slalom races at Beaver Creek.
Beaver Creek's snowmaking crews fired up the snow guns on four trails Wednesday night, including two on the main mountain and one in Bachelor Gulch. In addition, snowmaking started on the Flyway portion of the Birds of Prey Downhill course. World Cup action is slated for Nov. 30- Dec. 2 this season.
For more information and resort updates go to
www.beavercreek.com
.
---

2 Comments on "With seven inches new, Beaver Creek fires up snowmaking guns on Birds of Prey course"