Aspen 'would miss Vonn's presence' if she races against men in Lake Louise downhill
Vail racer has never made a podium in annual Aspen Winternational
Vail's Lindsey Vonn would rather race downhill against men in Lake Louise, Canada next month than take on other women in a giant slalom on Aspen's Strawpile run during Winternational World Cup weekend.
That preference is somewhat understandable given America's most dominant female ski racer of all time has never won in Aspen but has owned Lake Louise, where she's won 11 times. Vonn has some unpleasant memories from Aspen last season, finishing 12th in the GS and pulling out of the slalom with a sore back.
"Obviously we would love to see Lindsey race in Aspen," Aspen Skiing Company spokesman Jeff Hanle said Wednesday. "She is the top female ski racer in the world and the fans here in Aspen and the race organizers would miss her presence. If she ends up going against the men, we will all be cheering for her, but we would rather see her on our course and on our podium."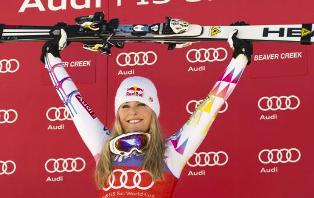 Vonn has never stood on a podium (top three) in Aspen, which typically only hosts slalom and GS races for the women during the only World Cup stop on American snow each season. Although she has won a few GS and slalom races elsewhere, Vonn is far more dominant in the speed events of downhill and super-G.
Vonn raised eyebrows over the weekend when it was revealed she sent a letter to the International Ski Federation (FIS) requesting the opportunity to race against men in a World Cup downhill scheduled for Nov. 24 at Lake Louise – the same day as the women's GS in Aspen.
A FIS official recently told Ski Racing Magazine that the organization would be open to Vonn racing against the men at Lake Louise but that she would then have to skip the women's speed events at Lake Louise the following weekend because she would have an unfair training advantage in those races. Vonn did offer to forego training runs for the women's races.
She told the New York Times that she wouldn't race against the men at Lake Louise if it meant missing the women's races there the next weekend.
"There's two downhill races and a super-G, so for the downhill title, for the overall title, those are very important races for me and I wouldn't want to jeopardize that," the defending overall World Cup champion told the Times.
Each win in a World Cup race is worth 100 points, and an overall champion is crowned each season for accumulating the most points. Vonn is a four-time overall champion – two shy of tying the record – and last season nearly broke the men's season point record of 2,000 set by Hermann Maier in 2000. She wound up just short with 1,980 points – a new women's record.
In order to race against men, Vonn needs the United States Ski and Snowboard Association (USSA) to formally make a request to the FIS Council, which would then make decision at its next meeting Nov. 3-4. And that apparently hasn't happened yet.
"Nothing new to report here," U.S. Ski Team spokesman Doug Haney said Wednesday, pointing to a USSA statement issued over the weekend. "We greatly respect Lindsey for her accomplishments as well as her interest in this new challenge. But we have not yet had an opportunity to formally discuss it with Lindsey and FIS."
Vonn has tallied 11 of her U.S. record 53 World Cup wins at Lake Louise, including nine downhill victories and two super-G wins. Last season Vonn won on a traditional men's course on Beaver Creek's Birds of Prey super-G track, "skiing like a guy" en route to her first victory on U.S. snow. But that was against other women. She told the Times, "I'd like to have one chance in my life to race against [the men]."
Just prior to that Beaver Creek race last season, Vonn was 12th in a GS in Aspen in which teammate Julia Mancuso finished third – a rare American podium there. Vonn then pulled out of the slalom the next day with a sore back and announced she was seeking a divorce from her husband and coach Thomas Vonn.
Lindsey Vonn needs just three wins this season to overtake Switzerland's Vreni Schneider (55 victories) as the second-most successful female ski racer of all time. The women's career record for wins (62) was set by Austria's Annemarie Moser-Proell in the 1970s.
Of Vonn's 53 wins, only four have come in the tech events of slalom (Levi in 2008 and Garmisch in 2009) and GS (Soelden in 2011 and Are in 2012).
Vonn's counterpart on the U.S. men's side is Bode Miller, the most successful America man ever with 33 wins – nine of which have come in GS (including one on the Birds of Prey in Beaver Creek) and five of which have come in slalom. Vonn and Miller head-to-head in a downhill might draw ratings, but some analysts say she would lose to most of the men by three or four seconds.
Miller, however, is still a bit gimpy this fall after micro-fracture surgery on his left knee in Vail last March ended his 2011-12 World Cup season. He had the knee surgically checked out late last month after getting on skis in Portillo, Chile, and proclaimed, "Things are looking good in there." But it remains unclear if he'll be able to race in the World Cup opener in Soelden, Austria, Oct. 27-28.
"Bode is headed to Europe next week and will be training in Soelden, but we haven't set a timetable for his return to competition," Haney said.
Miller married professional volleyball player Morgan Beck on a boat in San Diego over the weekend.
---

3 Comments on "Aspen 'would miss Vonn's presence' if she races against men in Lake Louise downhill"