Colorado's 'first good snowstorm' has workers at Vail, Beaver Creek scrambling
Gondola, race venue construction on schedule as snowmaking ramps up
With the first significant snowstorm of the season heading into Colorado this weekend, crews at Vail and Beaver Creek are working overtime to finish major upgrades for the coming ski season.
At Vail, a helicopter is scheduled to fly in and install towers for the new Gondola 1 on Thursday as crews work to complete the project by the resort's scheduled Nov. 16 opening day. Snowmaking crews are also busily blowing the white stuff on Golden Peak ahead of U.S. Ski Team training later this month or early next month.
"The snowmakers are hard at work taking advantage of cold temps -- and the snow appears to be building up nicely," Vail spokeswoman Liz Biebl said. "And the gondola is still on track for opening to the public on Nov. 16 -- just a little over a month to go."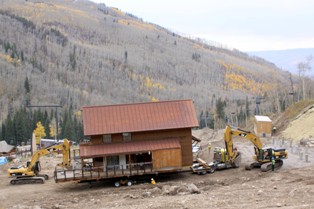 All roads on Vail Mountain are closed to both foot and bicycle traffic Thursday until the helicopter operations are complete.
The new high-speed Leitner-Poma, 10-passenger gondola replaces the old Vista Bahn high-speed quad chairlift from Vail Village to Mid-Vail and will allow the mid-mountain 10th restaurant to stay open for après skiing and dinner service this season.
At Beaver Creek, crews are finishing up major renovations to the Red Tail finish area at the base of the Birds of Prey World Cup race course. And snowmaking could begin as soon as next week.
"[Snowmaking crews] were targeting next week as the start date if temps cooperate," Beaver Creek spokeswoman Jen Brown said. "Teams returned this week, so hopefully it's game-on at any moment." Beaver Creek opens to the public on Nov. 21 and hosts men's World Cup ski racing action Nov. 30 to Dec. 2.
Artificial snow production efforts could get a major boost from what forecasters are calling "Colorado's first good snowstorm of the season" on Friday and Saturday. Opensnow.com predicts 5-10 inches above 10,000 feet by Saturday afternoon.
That means Loveland Ski Area or Arapahoe Basin, the two resorts that typically race to open first in Colorado each season, could crank up the lifts this weekend or early next week.
"Not sure about this weekend yet, but I think next week is more likely," Loveland marketing director John Sellers said on Tuesday. "But we will have to see what that storm brings."
A-Basin officials wouldn't play the guessing game.
"Unfortunately, I can't speculate on our odds of opening this weekend," A-Basin spokeswoman Adrienne Saia Isaac said. "Snowmaking is going well, and I know [COO and vice president] Alan [Henceroth] walked High Noon a few times this week and was pleased with the progress."
Meanwhile, Copper Mountain, which was the first resort in the state to start blowing snow last week and is scheduled to open Nov. 2, could see U.S. Ski Team athletes training on its full-length downhill course by the end of the month.
"We'll be on snow at Copper as early as possible -- perhaps as early as Halloween," said U.S. Ski Team spokesman Doug Haney. Athletes will also start training tech events – slalom and giant slalom – on Vail's Golden Peak as soon as possible in the lead-up to the U.S. Ski Team's First Tracks team announcement event in Vail on Nov. 15.
The World Cup opener for both men and women is set for Oct. 27-28 in Soelden, Austria, followed by Levi, Finland, Nov. 10-11. Then the circuit comes to North America for races in Lake Louise, Canada, Aspen and Beaver Creek in late November and early December.
Fans at Beaver Creek will see a whole new race venue after a summer of construction on new women's downhill and tech courses, as well as a radically revamped finish area. Crews recently moved a 130,000-pound, two-story timing building from one side of the finish area to the other.
Workers also re-graded the Red Tail finish arena, doubling the size and capacity of the television compound, and moved the shuttle bus drop-off hundreds of feet up Dally Road so people won't have to walk so far to the grandstand.
Construction of the new women's downhill course adjacent to the men's course required clearing 22 acres of trees in two different areas, creating 17 new acres of skiable terrain and adding 30 acres of new snowmaking.
"The truly exciting part of this new course for Beaver Creek is that we not only get a world-class downhill for the world's top competitors," Beaver Creek vice president and COO Doug Lovell said in a press release, "but our skiers will have new terrain to experience this coming winter."
While racing fans will notice the changes for the men's World Cup this season, the new women's courses won't debut until a first-ever women's World Cup event at Beaver Creek Dec. 14-15, 2013. Vail and Beaver Creek host the World Alpine Ski Championships for a U.S. record third time Feb. 2-15, 2015.
---

25 Comments on "Colorado's 'first good snowstorm' has workers at Vail, Beaver Creek scrambling"