Vail starts snowmaking; Vonn seeks to ski against men
Vail started snowmaking early Saturday morning, putting down some artificial flakes on Golden Peak ahead of early-season U.S. Ski Team training. Vail's Lindsey Vonn, meanwhile, wants to race against men this season.
"Golden Peak is getting ready. Are you?" Vail officials asked on the Vail Mountain
Facebook
page Saturday after the snow guns were cranked up at 2 a.m. Vail isn't scheduled to open to the public until Friday, Nov. 16, but ski team athletes will be in Colorado to start training as soon as conditions allow.
Arapahoe Basin and Loveland started snowmaking last week. But Copper Mountain was first on Tuesday, blowing snow on its new U.S. Ski Team Speed Center and launching a
contest
offering the opportunity for season pass holders to ski and have lunch with athletes at the facility.
Vonn and other American racers took full advantage of the new speed facility at Copper last season, training super-G and downhill on a full-length course. Tech (slalom and giant slalom) and all-around racers like Vonn also frequented Vail's Golden Peak – just 20 minutes west over Vail Pass.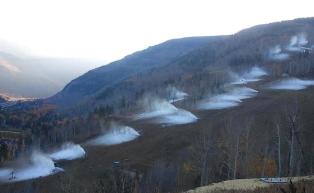 Vonn won four early season races in North America last season en route to her record-tying fourth overall World Cup title. Three of those wins came at Lake Louise, Canada, where she wants to compete against men this November, according to Reuters.
Vonn reportedly sent a letter to the International Ski Federation (FIS) requesting the opportunity to race against the men in a downhill race at Lake Louise this season. FIS officials are considering the request and will reportedly make a decision at meetings next month.
Vonn won a super-G race at Beaver Creek last season – a makeup race for a cancelled World Cup event in Europe. It was the first time women had raced on the Birds of Prey course, which hosts men's World Cup events every season, and the first time Vonn has won a World Cup race on U.S. snow.
At the time she said she wanted to "ski like a guy."
But FIS officials say letting Vonn race with the men this season at Lake Louise a week before scheduled women's races could give her an unfair advantage.
"It's complicated because no racer is supposed to ski on a race course a week prior to his or her own competition. If Lindsey Vonn could train and compete with the men in November, she would have a huge advantage on her rivals the following week during the women's races on the same course," said Norway's Atle Skaardal, the women's World Cup race director.
Of Vonn's 53 career World Cup wins, a record 11 have come at Lake Louise. That's the most for any female ski racer at one venue. Vonn needs just three wins this season to overtake Switzerland's Vreni Schneider for the second most wins in women's World Cup history. The all-time career record is held by Austria's Annemarie Moser-Proell, with 62 victories in the 1970s.
---

2 Comments on "Vail starts snowmaking; Vonn seeks to ski against men"