Copper beats Loveland, A-Basin to snowmaking punch, offers public access to U.S. Ski Team training
And the winner is … Copper Mountain?
The Summit County ski area beat Loveland and Arapahoe Basin to the punch Tuesday morning by cranking up its snow guns for the first time this season. And now the resort just 20 minutes east of Vail on Interstate 70 is inviting season pass holders to enter a contest to ski with members of the U.S. Ski Team before the mountain opens to the public.
Pass holders can enter the contest on
Facebook
, and winners will received VIP lift access for two, a tour of the U.S. Ski Team Speed Center with a ski team athlete, lunch and free skiing – all before opening day.
"Copper Mountain stepped it up with the U.S. Ski Team Speed Center," Olympic gold medalist Ted Ligety said. "It will be cool for the U.S. Ski Team to hang out and interact with Copper Mountain skiers while showing them first-hand what the U.S. Ski Team Speed Center really means to us."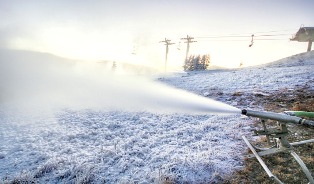 This is the second season for the facility, which is the only full-length downhill course open for training in the fall. It features 87 HKD automatic snowmakers, two miles of World Cup Supply A-net with steel structures, five miles of B-net and fencing set on 4,500 Reliable Racing netting poles to duplicate World Cup race hills across the globe in both safety and snow conditions.
Depending on weather conditions, it will open sometime in October for training for Olympic gold medalists like Bode Miller, Ligety, Vail's Lindsey Vonn and Squaw Valley's Julia Mancuso.
"Copper Mountain Resort is proud to enter into our second season in partnership with the U.S. Ski Team, delivering the best speed training venue in the world for our U.S. athletes," said Gary Rodgers, president of Copper Mountain Resort.
"This year, with the cooperation of the team, we are excited to allow early venue access to some of our loyal guests so that they can experience firsthand the excellent snow surface, vertical rise and training conditions that our elite athletes will experience," Rodgers added.
Typically, Copper opens to the public in early November. A-Basin and Loveland usually race to be the first resort to open in the state, cranking up their lifts in early to mid-October. As of Monday, though, both Loveland and A-Basin still hadn't started snowmaking.
"We're having an Indian summer here at Loveland Ski Area," the resort's
website
declared on Monday. "Due to the warm temps, our snowmakers were not able to start the snowmaking process. We're hoping to have cooler overnight temps this week."
A-Basin also was still on hold as of late Monday.
"OK, everybody is waiting," COO and vice president Alan Henceroth wrote in his
blog
on Monday, adding "most of the fan guns [are] on the hill. Is it time for snowmaking? Well, the forecast starts looking good Wednesday night.
"A few degrees one way or another can be the difference between marginal and great snowmaking. My money is on a few really good nights this week. Stay tuned. I imagine we will have some cool pictures very soon. Think cold; real cold."
---

2 Comments on "Copper beats Loveland, A-Basin to snowmaking punch, offers public access to U.S. Ski Team training"