If Amendment 64 passes, legal commercial sale of marijuana will still take time
If Amendment 64 passes, it will become almost immediately legal under Colorado law for adults to possess, grow, consume and give away (to another adult) up to an ounce of marijuana. It may take more than a year, however, before adults can purchase marijuana legally in a store.
A poll released in early September by Public Policy Polling shows the amendment continues to lead, currently by a 47-38 margin, with 15 percent still undecided. Passage could enable the state to increase tax revenues by
$50 million a year
or more while also potentially reducing law enforcement costs.
If the measure passes, the parts of the amendment related to individual behavior go into effect as soon as the governor signs a proclamation certifying the results of the election, which he is required to do within 30 days.
Sections related to the commercial cultivation and sale of marijuana would take effect incrementally but marijuana would be available for sale legally no sooner than late 2013 or early 2014.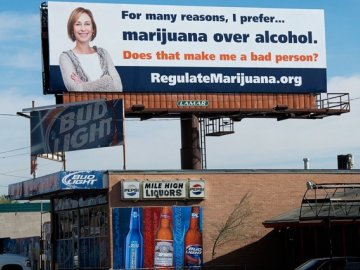 Even if the state moves forward with implementation in a timely fashion, it is anyone's guess what the federal response--if any--will be. The feds could do nothing, could move to block implementation, or could wait until legal businesses are set up and then move to shut them down, possibly arresting owners and employees in the process.
The amendment requires the Colorado Department of Revenue to adopt regulations governing the licensing of commercial businesses by no later than July 1, 2013. According to the amendment these regulations cannot prohibit marijuana businesses or make their operation "unreasonably impractical."
Attorney Brian Vicente, co-director of the pro-64 campaign, says that the amendment was written in such a way that the legislature can choose to address the issue, thus providing guidance to the DOR, or can do nothing and leave the crafting of regulations entirely to DOR staff.
"We left it open so that the legislature can be as active as it wants to be or it can leave the matter entirely to DOR," Vicente told the Colorado Independent.
DOR must begin processing business applications by Oct. 1, 2013. If the DOR fails to meet the deadline, prospective business owners can apply for local business licenses, thus bypassing the state. Local governments must establish their own regulations, also by Oct. 1, 2013. Local governments may also ban marijuana businesses, but need a vote of the people to do so.
Even if a city or county bans marijuana businesses, residents of the area would still be allowed to grow, possess, consume and give away small amounts of marijuana.
While the amendment legalizes private use of marijuana, public use would remain illegal. Patrons at a ball game, for instance, would not be able to go to the smoking area and light a joint. People would not be allowed to sit on a park bench and light up a marijuana pipe. People growing their own could have up to six plants, with no more than three being mature at any given time. Plants would have to be grown in secured areas that are not visible to the public. Even if it exceeds the legal one ounce, growers would be allowed to possess their entire harvest.
Employers would not have to accommodate people who wish to smoke at work and would still be allowed to test for marijuana use and to fire people who test positive. Driving under the influence of marijuana would remain illegal and it would remain illegal to sell or give marijuana to anyone under 21 years old.
Vicente explains that "employers will still have the absolute ability to retain any policies they have about marijuana use. Once it is legal, it is our hope that they will embrace common sense rules regarding the legal use of a legal product on people's own time."
Economic impact
The Blue Book, produced by the Colorado Legislative Council, estimates the fiscal impact that could be expected if the amendment passes. The book says that sales taxes and licensing fees would be expected to be between $5 million and $22 million per year and that the cost to the state would be $1.3 million in the first year and around $700,000 a year after that. The book makes no estimates of local revenues or costs.
The amendment, though, also requires the legislature to enact an excise tax of up to 15 percent through 2017 and at any rate agreed to by the legislature after 2017. This tax would be collected on sales from growers to retailers and marijuana product manufacturing companies. The Blue Book makes no estimate of how much such a tax could generate. The tax would have to be set by the legislature and then voted on by residents of Colorado.
"It is our strong belief that the legislature will pass such a tax as soon as they can," Vicente said. He and the campaign estimate that the revenue from such a tax could be as much as $24 million to $73 million a year. The amendment stipulates that the first $40 million a year generated by the tax will go to a state fund for the construction of public schools.
Laura Chapin, spokesperson for the anti-64 campaign, said she doubts the state would ever see anywhere near the amount of money talked about by proponents. "How do you tax an industry that cannot use bank accounts?," she asked, pointing out that federal law prohibits banks from accepting deposits of money earned by selling a substance that will remain illegal under federal law.

"How do you tax an industry that cannot use bank accounts?"
Vicente, though, says some medical marijuana businesses in the state actually do have bank accounts. He notes that there has been lots of press about banks not doing business with marijuana dispensaries, but said numerous banks and dispensaries are "quietly doing business together."
Aaron Smith, executive director of the National Cannabis Industry Association, said Chapin's argument is "absurd."
"Many marijuana businesses do have bank accounts, but I guarantee you that even those that don't, pay their taxes," he said. "That is simply an absurd statement. They didn't do their homework," Smith said.
A study released in August by the Colorado Center on Law and Policy estimates that local governments would generate a combined $14 million a year in the beginning. That study also estimates savings in law enforcement of $12 million a year immediately, increasing to $40 million a year in later years.
While it doesn't relate directly to Amendment 64, the National Cannabis Industry Association released a study on Sept. 13 that shows tax revenue in Colorado as a result of medical marijuana likely exceeded $10 million in 2011. The study, which looked at only ten Colorado cities, shows that medical marijuana businesses in the cities studied, generated $5.1 million in local tax revenues and nearly $4.5 million in state tax revenues. Business license fees bring in millions more, the study says. In Denver alone, revenue from such fees exceeded $6 million in 2011 alone, according to the study.
---

1 Comment on "If Amendment 64 passes, legal commercial sale of marijuana will still take time"