Coroner identifies man who died climbing North Maroon Peak near Aspen
The Pitkin County Coroner's Office on Sunday identified
a man who died climbing up
North Maroon Peak on Saturday as 34-year-old Derek Kelley of Colorado Springs.
A boulder came loose as Kelley approached the 14,014-foot summit, precipitating his fall, authorities said. Pitkin County Deputy Coroner Eric Hansen estimates Kelley tumbled about 800 feet and died within seconds.
"He was out there by himself but he did rendezvous with someone on the trail," Hansen said Sunday morning.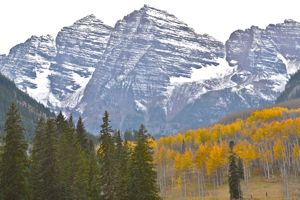 In addition to the climber Kelley met on the mountain, "there were plenty of eye witnesses" to the fall, he said.
Hansen said the cause of death was traumatic brain injury.
A sheriff's press release on Saturday stated Kelley was wearing a helmet at the time of the accident.
The Maroon Bells aren't just a pair of the most photographed mountains on the continent; they are also seriously dangerous. Many experienced climbers and hikers have lost their lives ascending North and South Maroon Peaks before. Earlier this summer, a 31-year-old New York City Fire Department paramedic died from a fall there. The peaks earned the nickname "The Deadly Bells" after eight people died on them in five different incidents in 1965.
A sign near the start of the trail to the Bells warns they "are unbelievably deceptive. The rock is downsloping, rotten, loose, and unstable. It kills without warning. The snowfields are treacherous, poorly consolidated, and no place for a novice climber. The gullies are death traps. Expert climbers who did not know the proper routes have died on these peaks. Don't repeat their mistakes, for only rarely have these mountains given a second chance."
---

2 Comments on "Coroner identifies man who died climbing North Maroon Peak near Aspen"