Obama looks to fire up base, recruit new troops in key battleground of Colorado
GOLDEN-- On his eighth trip to swing-state Colorado this election year, President Obama came to this scenic town in battleground Jefferson County on Thursday to energize and recruit ground troops to help his campaign win the state's nine electoral college votes, just as he did in 2008.
Obama underlined policies he has advanced that are likely to appeal to key demographic groups in the state, specifically women, youth and Latino voters.
He told the roughly 8,400 people packed into the city's Lions Park, set in the shadow of jagged Rocky Mountain foothills, that the Affordable Care Act, which he proudly referred to as "Obamacare," was already providing Colorado women with preventive care and barring the insurance-industry practice of refusing to cover them for pre-existing conditions.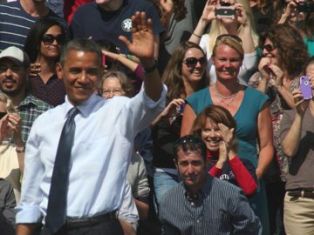 He emphasized the role affordable education played in his rise to the presidency, as a "mixed kid with a single mom." Not a very likely career path, he said, "but in America this can happen because of education." He said he had worked to keep government-backed student loan rates low by eliminating the fees and interest rates racked up by lenders.
"We cut the banks out of it. Now the loans go straight to the students," he said and added that he was going to work to lower college tuition.
He likewise touted the programs he has pushed to promote renewable energy, like the wind-industry federal tax credits that Colorado lawmakers on the left and right support for the jobs they have created and sustained here.
He also celebrated advances he spearheaded in expanding gay and immigrant rights over the last four years. He highlighted the repeal of the Don't Ask Don't Tell military policy, which has allowed gay soldiers to serve openly, and the executive orders he issued earlier this year that ended the threat of deportation for immigrants brought to the country as children.
"You made these changes," he told the crowd of voters and volunteers, echoing the Democratic Party convention speech he gave last week.
Secretary of the Interior and longtime Colorado political figure Ken Salazar speaking before the President, also praised the Affordable Care Act, noting that people up to the age of 26 could now remain on their parents' health insurance.
Salazar said the country has been striving for energy independence for more than 30 years, through Republican and Democratic administrations. "Obama is getting us there," he said. "We are now importing less oil than at anytime in the last three decades."
Salazar encouraged members of the crowd to register to vote and to make sure everyone they know also registers. The eyes of the nation, and the eyes of the world, are focused on Golden today, he said, because "as Colorado goes, so goes the election."
It was a theme echoed by speaker after speaker at the event.
Former Lt. Governor Barbara O'Brien enjoined members of the crowd to knock on doors and to work the phones. "Every one of us needs to make calls to people we know and people we don't know."
"We have to take responsibility to deliver Colorado. Let's fight for Barack Obama so he can fight for us for four more years," she said. The crowd responded by chanting "Four More Years."
Leslie Larocque was one of several Obama campaign volunteers to speak.
"This election could come down to just a few voters in one state," she said, urging people to talk to their friends and neighbors. "One conversation with one voter could make the difference between moving forward and falling backwards... None of us want to wake up November 7 and wish we had done more, so get to work!"
Amanda Still, an Obama field manager, talked about how Obamacare had given her family peace of mind. Both of her parents endure pre-existing conditions that had caused no end of anxiety over whether they could ever find insurance coverage if they ever lost their jobs.
"So last year, I decided [the President] deserved more than my vote; he deserved my time... He's had our back, so now it is time for us to have his back.
"Call everyone you know and some you don't and tell them to vote... Colorado, this is it, this is where we win the election... Go out and win this election."
Obama also sought to enlist new volunteers.
"The power to do it is in your hands... We will win this election," he said, if Coloradans walk their neighborhoods and precincts and knock on doors.
The rally here today marks a bit of a departure. Obama has visited college campuses on the majority of his recent visits to the state. He visited the Auraria Campus in Denver last October and Colorado College and the Air Force Academy in Colorado Springs, as well Colorado State University in Fort Collins and the University of Colorado at Boulder twice this year.
Obama seems likely to win the crucial youth vote in the state. The question is whether his campaign will suffer from a so-called enthusiasm gap among young people that will tamp down the vote compared to 2008.
Steve Fenberg, executive director at youth politics group
New Era Colorado
, for one, doesn't see any enthusiasm gap. "That prediction isn't holding true, as far as we can see," he told the Independent. He said it's still early in the election cycle to judge how many young people will volunteer for campaigns and vote but that energy on the ground has been running high.
"It's not really comparing apples to apples," he said, noting that New Era is a larger organization now than it was in 2008, but he added that his group in the last few months registered 14,000 voters under 30 years old, whereas in 2008, New Era registered 11,000 total of those same aged voters.
"But we're not the only group out there. Obama for America is registering lots of voters and they have a lot of offices open," he said, adding that he doesn't see much of the Romney campaign on the ground.
That impression, of a relatively low-level Romney campaign effort to woo young people, matches trends established over the course of the last decade, where
youth voters in unprecedented numbers have swung away
from the Republican Party toward the Democratic Party and where Republican campaign teams have effectively given up in the battle to win over youth voters.
The Obama campaign, for example, won an historic landslide among young people in his race against John McCain in 2008, but the Obama campaign worked hard to do it. It won nearly 70 percent of the youth vote that year by contacting double the number of youth voters as did the McCain campaign. And the Obama campaign spent extra effort wooing youth in swing states.
In states like Pennsylvania, Nevada, Florida and Indiana, the Obama campaign reached up to 50 percent and 60 percent of all eligible youth voters, doubling and tripling McCain campaign efforts and notching some of Obama's biggest and most significant point spreads on Election Night.
Fenberg said that Republican neglect of the youth vote amounts to a double whammy, because young people add a sort of turbo boost of energy to campaign voter engagement and turnout efforts.
"Obama didn't just win over all these young people in 2008 because they thought he was a sexy or appealing candidate or whatever. It's because the campaign built what I think was unprecedented infrastructure. The Obama campaign invested millions on the youth vote, and that investment pays off with young people. You absolutely can turn them out to vote."
Fenberg added that it helps that Pres. Obama happens to be in-line with young Americans on a lot of key policy issues, such as making higher education affordable, supporting marriage equality for gay people and women's reproductive rights and protecting the environment.
"If these are your policy stands, then it really benefits you to communicate that fact to young voters," he said.
That's clearly what the President was attempting to do in Golden Thursday.
Scot Kersgaard contributed to this report.
---

0 Comments on "Obama looks to fire up base, recruit new troops in key battleground of Colorado"
Be the first to comment below.