Vail-area U.S. Rep. Polis raises national profile with diversity speech at DNC
With two months left in the election cycle and swing-state Colorado still up for grabs, the national spotlight keeps flickering over state politicians, giving them opportunities to raise their profiles.
Tuesday night at the Democratic Party convention in Charlotte, 2nd District Congressman Jared Polis, who represents the Vail Valley, spoke on diversity as a great American strength.
"My great-grandparents were immigrants. I am Jewish. I am gay. I am a father. I am a son. I am an entrepreneur. I am a congressman from Colorado."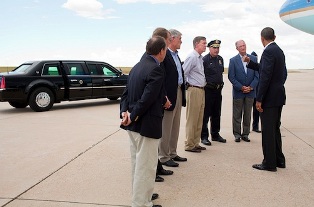 Polis, a two-term congressman, is being challenged this year by Republican State Senator Kevin Lundberg. Polis has defeated Republican congressional opponents in the past by comfortable margins but the newly drawn 2nd District is less reliably Democratic and, as is the case with an increasing number of congressional and state legislative districts in Colorado, voters face a stark choice at the polls this November. Polis, a multimillionaire web entrepreneur who with his partner Marlon became a father last year, is unapologetically liberal and has not shied away from hot-button topics. He has led high-profile battles to expand immigrant and gay rights since taking office, for example. Lundberg is unapologetically conservative, a religious-right crusader over the course of years at the capitol in Denver who routinely cites scripture in support of policy positions.
In his convention speech, Polis argued for mutual respect as the best way to move beyond culture-war impasses and legislative gridlock.
Now is our chance to tell the dividers no, tell the special interests and cynical Washington insiders no, tell the lobbyists and PACs no…[W]e must continue bringing America together. So tonight, I don't just ask my fellow Americans to respect my relationship with my partner Marlon and my role as a father to our son. I also ask them to respect the Christian family concerned about decaying moral values and crass commercialism. I ask them to respect the difficult decision of a single mother to bring a child into this world, because of her heartfelt beliefs.

And it is why we must help that courageous woman have the support she needs after her child is born. We celebrate Americans of all backgrounds and beliefs, even Republicans, because this is their future, too. Republicans mocked our desire to heal the planet, but we will heal it for Republicans too, and we will create jobs for Republicans too.
Lundberg didn't receive an invitation to speak at the Republican National Convention in Tampa last week and some analysts believe he isn't likely to win enough votes among Front Range social conservatives to counter the votes that will stream in for Polis from the university towns of Boulder and Fort Collins. Lundberg seized an opportunity to gain some exposure in July, however, appearing with prominent Republicans when Mitt Romney visited the state. Lundberg posed for photos at Romney bus-tour stops alongside Colorado Congressman Cory Gardner, former Colorado Congressman Bob Beauprez and Ohio U.S. Sen. Rob Portman, who at one point was reportedly in the running to join Romney at the top of the GOP ticket this year.
Colorado 7th District U.S. Rep. Ed Perlmutter joined the Democrats who met President Obama on the tarmac at Buckley Air Force Base in Aurora in July. Perlmutter easily defeated Republican Ryan Frazier in 2010's Tea Party-wave election. But his newly drawn district, like Polis's 2nd District, is now less reliably Democratic. What's more, Perlmutter's facing a tougher reelection challenge this year from Colorado beer-family scion Joe Coors.
For his part, Republican Congressman Mike Coffman hasn't had to lean on top-of-the-ticket candidates to make national headlines. His once-solidly Republican 6th District is now a toss up, evenly divided among Republicans, Democrats and unaffiliated voters. Yet Coffman's campaign has been marked by speeches he has made to Republican crowds where he has dabbled in talk radio-style disparagement and conspiracy theories unlikely to win over moderate voters.
Speaking in August to the Arapahoe County Republican Men's Club, Coffman said he thought Pres. Obama might launch a "superficial" military action in the weeks leading up the election as a way to gain support. Coffman characterized the prospect as one of his "fundamental concerns." He said the action would be a "rally around the flag for the American people to boast [the Obama] presidency." Audio of the remarks captured by a Democratic Party tracker appeared at multiple news outlets and is now being pushed out by Coffman's Democratic challenger, state Rep. Joe Miklosi.
"[The accusation] is outrageous and irresponsible," Miklosi wrote in a release sent out Wednesday. "Coffman has disgraced his office... by spreading extreme conspiracy theories and attempting to undermine our Commander-in-Chief for his own political gain. These are the kinds of things we expect to hear from right wing radio hosts not members of Congress."
Coffman's "October surprise" theory bookends comments he made in May at an Elbert County fundraiser, where he said the President was "not American in his heart." Video of the remarks aired at national news sites, where Coffman was criticized for seeming to lean on the so-called birther movement, which holds that the President is not a true citizen of the country and ineligible for office.

---

1 Comment on "Vail-area U.S. Rep. Polis raises national profile with diversity speech at DNC"