Andy Schleck won't race in next week's USA Pro Challenge, team spokesman says
Popular 2010 Tour de France winner 'not ready yet for such a hard race'
Andy Schleck, the 2010 Tour de France winner, will not be racing in Monday's USA Pro Challenge cycling stage race, a Team RadioShack Nissan Trek spokesman said Thursday.
"[Andy Schleck] was on the list of preselected riders, but he is not ready yet for such a hard race," press officer Philippe Maertens told RealVail.com in an email on Thursday. "That fracture in his pelvis is still bothering him."
The seven-stage USA Pro Challenge starts Monday in Durango and ends Sunday, Aug. 26, with an individual time trial in Denver. It includes a mountaintop finish during Thursday's stage 4 from Aspen to Beaver Creek.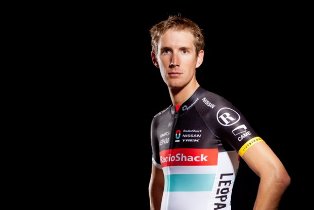 Johan Bruyneel, director of Team RadioShack Nissan Trek, indicated in a recent blog post that Andy Schleck was recovered enough from a fractured pelvis sustained in a crash at the Criterium de Dauphine in June to race in Colorado again this year.
Luxembourg's Andy Schleck and his brother Frank, number two and three on the podium at last year's Tour de France, raced in the inaugural USA Pro Challenge in 2011.
While one of the most popular riders in front of an estimated 1 million spectators, Andy Schleck was 33rd and nearly seven minutes behind winner Levi Leipheimer in the general classification last year. Frank Schleck was 13th last year, 2 minutes 17 seconds behind Leipheimer.
Frank Schleck was pulled from this year's Tour de France after a positive doping test. Team spokesman Maertens called reports last week that both brothers would race in Colorado "very wrong, too. Frank will not race -- provisionally suspended by the team."
As for reports confirming Andy Schleck, Maertens said, "The organizers announced him. We did not."

Still, six of the top 13 finishers in this year's Tour de France will compete in Colorado.

"You'll always see us attract a big-time field," USA Pro Challenge CEO Shawn Hunter said. "It's become very early a race that's relevant and a race that people want to win, so while we're disappointed Andy didn't come, we totally respect his decision. He's going to come here and do it when he can compete."

Last year's Tour de France winner, Australia's Cadel Evans, who raced in the inaugural USA Pro Challenge, will be back this year, according to a BMC Racing Team spokesman. Evans was seventh last year, 1:18 behind Leipheimer, who is returning to defend his title.
---

3 Comments on "Andy Schleck won't race in next week's USA Pro Challenge, team spokesman says"