Both lanes of U.S. Highway 24 open to traffic starting Friday night
With a little under two weeks until the USA Pro Challenge cycling race stage 4 leg between Aspen and Beaver Creek, Colorado highway officials Wednesday announced both lanes of U.S. Highway 24 near Tennessee Pass will open to vehicle traffic at 7 p.m., Friday, Aug. 10.
A sinkhole opened up in that section of the highway last month, necessitating emergency repairs. There was some concern the Pro Challenge might have to go to an alternate route. Last week, the Colorado Department of Transportation (CDOT) opened one lane of the highway to alternating lanes of traffic.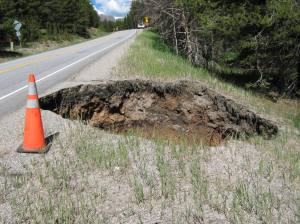 "We are grateful to Hayward Baker, the contractor, for their hard work to make these repairs so quickly and efficiently," said Matt Figgs, CDOT project engineer. "We want to thank the community of those impacted by the closure for their understanding and patience while we made these necessary safety repairs."
To repair the sinkhole and the highway, Hayward Baker constructed a grout containment barrier on the north and south sides of the highway to contain the fill zone. A thinner grout material was then poured into the void and a pressurized grout was used to fill any remaining voids, which compressed the existing materials underneath the highway to strengthen the roadway platform.
Once the void was stabilized, crews smoothed the existing road surface and paved a three inch layer of asphalt to create a seamless transition for motorists over the former sinkhole site.
Altogether, crews used 1,700 cubic yards of material to fill and stabilize the void beneath the highway, which required 190-200 full truckloads of material to be used. An average cement truck is able to hold roughly nine cubic yards of material altogether.
---

9 Comments on "Both lanes of U.S. Highway 24 open to traffic starting Friday night"