From Vermont to Vail: Burton heads west with U.S. Open Snowboarding Championships
As a kid growing up in nearby West Dover, Vt., Kelly Clark used to watch the U.S. Open Snowboarding Championships at Stratton Mountain as a fan. After starting to ride at age 8 and trying to prequalify for years, she finally made it to the main event and won the halfpipe a record five times.
Now the three-time Olympian is losing that home-snow advantage as the event moves to Vail, Colo., next season after 27 years at Stratton and 30 years in Vermont.
"It was a great era for the Open to be in Vermont, but I'm looking forward to the future. It will take on a new identity, and I don't always think change is bad," Clark said in Vail last week on her 29th birthday.
Clark says the move to Vail will team two giants in the snowsports industry and inject new energy into an event that athletes rank just behind the Olympics and the X Games in terms of bragging rights.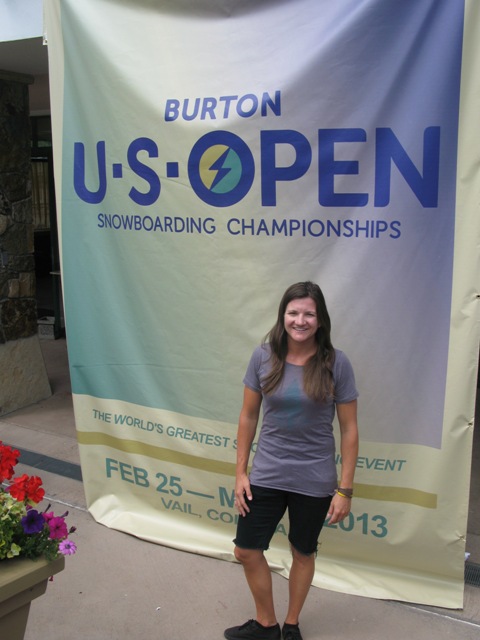 "I'm excited to see what a company that gets behind an event like Burton gets behind the Open, partnered with Vail, can produce," said Clark, a Burton rider who's won Olympic gold and bronze in halfpipe and three X Games golds in superpipe. "It's going to remain one of the headline events in our sport."
The new-look U.S. Open, according to organizers, will be held Feb. 25-March 2 next year on a new 22-foot halfpipe and adjacent slopestyle course at Vail's Golden Peak area.
Golden Peak is at the base of Vail Mountain on the front side right along Interstate 70. It's home to Ski and Snowboard Club Vail training facilities and a new $2.7 million, state-of-the-art snowmaking system that allows World Cup ski racers like Vail's Lindsey Vonn to train there in the early season.
Vail itself is one of the most popular ski mountains in the nation, posting a record 1.75 million skier and snowboarder visits during the 2010-11 season. Burton wants to tap into that popularity with the U.S. Open.
"We want to make this a world-class snowboarding contest, but it's also an event that we want to be so accessible and open to spectators and vendors, so it's not like putting a halfpipe at the top of a hard-to-get-to peak that only the core of the core are going to get there," said Anne-Marie Dacyshyn, global PR director for Burton Snowboards.
Last season, after several years away from the Open, two-time Olympic gold medalist Shaun White returned to Stratton to win the halfpipe event for the fourth time in his storied career. He owns a streak of three straight halfpipe wins from 2006 to 2008. White in 2011 signed a deal with Vail Resorts that makes Vail's Northstar-at-Tahoe his home mountain.
"Everybody who's anybody in the sport will be here [next season]," Clark said of the Open moving to Vail. "There are three events as a professional snowboarder that if you win you can call yourself pretty established, and those are, in this order, the Olympics, the X Games and the U.S. Open. It's really been one of the big three for a long time now and it will remain."
While Burton has long been based in Vermont, founder Jake Burton views Vail as his western headquarters.
"Our owner Jake Burton, [Vail] has been his mountain home away from home the last 20 years," Dacyshyn said. "This is where he comes if he's not at his home mountain [of Stowe, Vt.], so there's also a very nice connection. He and his family have always been in residence at some level here at times every winter."
Vail also has a retail partnership with Burton, with licensed Burton stores in Vail and Northstar. Along with the rest of the snowsports industry, snowboarding sales took a hit during the recent recession, and after a meteoric rise in participation throughout the 1990s and the early part of this century, snowboarding numbers declined slightly to 30.2 percent of all skier visits last season.
Asked if moving the Open to Vail is meant to rekindle interest and therefore growth in the sport, Burton's Dacyshyn said that's always a company goal.
"Because Burton's the pioneer in snowboarding, we always feel like we carry that torch of participation," Dacyshyn said. "If Burton's not helping grow and get more people into the sport, then who is? It's just a hallmark of what we do."
Clark said ease of access for both competitors and spectators makes the U.S. Open a great fit in Vail.
"That's one of the biggest things as a rider that we look for is the venue, where the lift is going to drop us off, how easy it is to access the pipe or the slopestyle course," Clark said. "It's going to be good for both the spectators and the riders. It looks like it's going to be a really steep, long halfpipe, which really caters to progression."
---

4 Comments on "From Vermont to Vail: Burton heads west with U.S. Open Snowboarding Championships"