One lane of U.S. 24 near Tennessee Pass opening to alternating traffic
State highway officials announced that one lane of U.S. Highway 24 will open to alternating traffic beginning at 6 p.m. today. The highway between Leadville and Minturn has been shut down in both directions near Tennessee since a sinkhole opened up earlier this month.
Here's the full press release:
The Colorado Department of Transportation (CDOT) will open one lane of US 24 to one lane of alternating traffic, including bicyclists, tonight at 6 p.m. Over the weekend, crews were able to make enough progress on the project to safely open a single lane of the highway while repairs continue near mile marker 165 between Leadville and Red Cliff.
Between 7 a.m. and 7 p.m. each day, including Saturdays and Sundays, flaggers will be present to direct motorists through the work zone. From 7 p.m. to 7 a.m., a traffic signal will be set up to direct traffic. Work will still be happening in the area and crews will be present throughout the day and night. Motorists are urged to drive Slow for the Cone Zone, and should expect delays of up to 10 minutes, as motorists will be taking turns traveling through the work zone.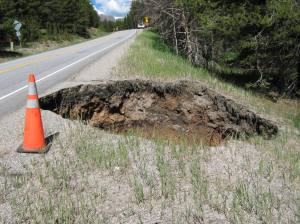 Both lanes of US 24 will not be fully opened until repairs are complete the week of Monday, August 6. The contractor, Hayward Baker, will continue to work seven days a week from 6 a.m. to midnight each day to keep the project progressing on schedule.
Repairs are scheduled to be completed before the USA Pro Challenge plans to go through the area, barring any changes based on weather, natural disasters, and other unforeseen circumstances. The Copper Triangle bicycle race will be able to use US 24 and Tennessee Pass the weekend of Saturday, August 4. Thanks to the hard work of crews, the cyclists will be able to pass through the construction zone using a four-foot bicycle lane. Motorists will be able to simultaneously pass through the work zone during the race. That same weekend, Leadville will have its annual Boom Days celebration from August 3 through 5, and motorists using US 24 to travel to and from the celebration will be urged to be on the lookout for cyclists during the race.
To repair the sinkhole and the highway, Hayward Baker constructed a grout containment barrier on the north and south sides of the highway to contain the fill zone. A thinner grout material was then poured into the void and a pressurized grout is now being used to fill any remaining voids, which will compress the existing materials underneath the highway to strengthen the roadway platform. Once the void has been stabilized, crews will grind down the existing road surface and pave a three inch layer of asphalt to create a seamless transition for motorists over the former sinkhole site.
To receive real-time updates about road conditions in your area, visit www.coloradodot.info and click on the green cell phone icon in the upper right hand corner of the page. Updates are also available via Twitter @coloradodot and be sure to "Like" our Facebook page at www.facebook.com/coloradodot.
---

0 Comments on "One lane of U.S. 24 near Tennessee Pass opening to alternating traffic"
Be the first to comment below.