Highway officials race to fix Tennessee Pass sinkhole ahead of USA Pro Cycling Challenge
CDOT: 'We're not getting too worried quite yet ... there are contingency plans'
The highly anticipated USA Pro Cycling Challenge Stage 4 route between Aspen and Beaver Creek could be in jeopardy if state highway officials can't fix a sinkhole near Tennessee Pass that has indefinitely shut down U.S. Highway 24 in both directions.
"We're not getting too worried quite yet," said Ashley Mohr, a Colorado Department of Transportation (CDOT) spokeswoman. "There are contingency plans for the bike race in the long haul -- we're not needing to look at those quite yet."
Stage 4, which is scheduled to begin in Aspen on Aug. 23, would travel up and over Independence Pass on Colorado State Highway 82, connect to U.S. Highway 24, travel through the nation's highest incorporated town (Leadville at 10,152 feet) and then head on over Tennessee Pass and Battle Mountain Pass before linking up with U.S. Highway 6 and ending in Beaver Creek.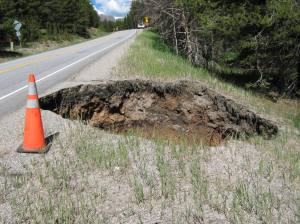 Three high-mountain passes and an uphill finish in one of the state's most scenic ski areas would possibly make Stage 4 the signature stage in the second running of the state's massively successful road-cycling stage race won last year by Levi Leipheimer. Top riders from the Tour de France and the London Olympics have already committed to the Aug. 20-26 race.
"With any live sporting event like that, there can always be a wildfire, especially in Colorado," Mohr said, referring to other natural disasters that can force route changes. "There's always that possibility, so we do have contingency plans and backup plans in place. At this time we're not looking at that quite yet. It would be a little bit premature."
Mohr said she could not discuss alternative routes if the sinkhole situation can't be resolved.

"We are aware of the situation on U.S. 24, and are watching it closely." USA Pro Challenge CEO Shawn Hunter said via a spokeswoman. "We are in regular communication with CDOT, and at this point there are no plans to change the route."

The Beaver Creek finish, new this year, is viewed by some as a consolation prize for the Vail Valley after losing the iconic (and ultimately critical) Vail Pass time trial stage from last year. Vail Mayor Andy Daly expressed disappointment when that stage was scrapped. Losing the Aspen to Beaver Creek stage could leave the Vail Valley entirely out in the cold.
Mohr said highway workers on Wednesday finished up a process called "coring," in which they took soil samples from several areas near the sinkhole, which is actually a century-old railroad tunnel that collapsed decades ago but was just recently exposed by a rain-triggered sinkhole.
"We're going to analyze that data and from that we're going to come up with a plan of what we're going to do to fix this and prevent it from becoming an issue again in the future, and once we have that plan together we can get together a better timeline," Mohr said.
"Right now we just don't know how long that process is going to take depending on what we find from the analytics."
U.S. Highway 24 is also a critical link for resort workers living in Leadville and trying to get to jobs in Vail, Avon and Beaver Creek. Those workers now must drive over Fremont Pass on Colorado State Highway 91 to Copper Mountain, then west on I-70 over Vail Pass – adding about an hour to their commute.
"On I-70 at Dowd Junction we get 39,000 vehicles a day," Mohr said. "Through this stretch of 24 we get about 2,000. In the scope of things it's not quite as catastrophic as if we had to shut down I-70 for this amount of time.
"However, we do realize that for folks who are trying to get from Red Cliff to Leadville that's a significant detour. It's about an hour, and so we're just trying to do our best."
---

23 Comments on "Highway officials race to fix Tennessee Pass sinkhole ahead of USA Pro Cycling Challenge"