Top field expected for USA Pro Challenge, but won't include Tour de France leader Wiggins
2011 Tour winner Evans returing to Colorado along with Challenge champ Leipheimer
The good news is 2011 Tour de France champion Cadel Evans will return to Colorado next month to race again in the USA Pro Challenge. The bad news – if you're an Evans fan – is that the Australian likely won't be back as the defending Tour champion.
And the man set to supplant him, Great Britain's Bradley Wiggins, won't cross the pond to compete in what's become America's premier road cycling stage race in just its second year. Wiggins' Sky Procycling was the team that got away for Challenge organizers.
"They're the only team I wanted that couldn't make it," Challenge CEO Shawn Hunter told the
Denver Post
on Tuesday. "But I can see them here in two or three years."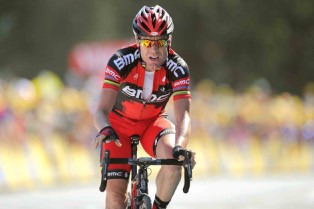 This year's USA Pro Challenge runs Aug. 20-26, including an uphill finish into Beaver Creek on Thursday, Aug. 23.
Wiggins won a critical
time trial on Monday
to take a seemingly insurmountable 1 minute, 53 second lead over Evans in the Tour's general classification (GC) heading into today's grueling Stage 11 in the French Alps. Barring a disaster, Wiggins is poised to become the first Briton to win the Tour de France.
While Wiggins won't make it to Colorado next month, there's still plenty of good news for Challenge organizers, including the return of defending champion Levi Leipheimer (currently 19th in the Tour but nearly 9 minutes back in the GC). Leipheimer finished third in the Tour in 2007.
Also, Luxembourg's Frank Schleck, of RadioShack-Nissan, will be back for this year's Challenge. Schleck sits 16th in this year's Tour and was third last year. However, his brother Andy – second last year and the overall Tour winner in 2010 – is recovering from an injury and won't be back in Colorado this year.
But rising Italian star Vincenzo Nibali, of Liquigas-Cannondale (currently fourth in the Tour), is likely to be here. Nibali had some
sharp words
for Wiggins on Wednesday, accusing him of a lack of respect at the end of the stage. Wiggins, a three-time Olympic champion in pursuit, refused to respond.
Also likely to compete in this year's Pro Challenge in Colorado is Evans' BMC Racing teammate George Hincapie – the longtime domestique of seven-time Tour champion Lance Armstrong. Hincapie, who also helped Alberto Contador to a Tour victory in 2007 and Evans in 2011, is retiring and will likely be riding in his final event in Colorado.
Also on the BMC squad and likely to ride in the Challenge is Boulder's Taylor Phinney, son of legendary Colorado cyclists Davis and Connie-Carpenter Phinney.
Phinney hopes to be coming off a strong showing in the road racing and time trial events at the London Olympics just before the USA Pro Challenge.
Hunter says that following the Tour and then the Olympics will benefit the Challenge. In just its second year, he said the grueling nature of the Colorado Rockies has earned the event a solid reputation.
"After the 2011 USA Pro Challenge, we had such an overwhelmingly positive response from the teams that it was difficult to narrow it down to 16 teams for the 2012 edition," Hunter said in a press release.
"The USA Pro Challenge is building a reputation for having the highest caliber teams in the world, creating fierce competition in the Colorado Rockies. I can't wait to see what these teams have in store for us this August."
Evans definitely sounds stoked to return to Colorado.
"After winning the Tour de France last year and seeing the enthusiasm of the fans, I didn't think anything could match it, but then I came to Colorado," Evans said in a release. "Seeing the huge crowds that were along the route supporting us at the USA Pro Challenge was remarkable and really motivated us to do our best.
"The course and the mountains were beautiful, but incredibly challenging, and I can't wait to take them on again. I knew last August that I wanted to return to the race in 2012."
The fourth stage of the Challenge will run from Aspen up and over Independence Pass, through Leadville and over Tennessee Pass and Battle Mountain before finishing in Beaver Creek.
Colorado Department of Transportation (CDOT) officials are currently
scrambling to fix
a sinkhole along U.S. 24 near Tennessee Pass. The sinkhole is the result of an old railroad tunnel and has closed the highway indefinitely.
Anyone looking to get pumped up for next month's racing action in Colorado should gather at Loaded Joe's in Avon beginning at 7 a.m. during the duration of the Tour (which wraps up in Paris on July 22).
Besides its prime location in Avon, where the USA Pro Challenge will roll through on Aug. 23 en route from Aspen to Beaver Creek,
Loaded Joe's
is offering prize giveaways and BOGO drinks for parties of two or more.
---

18 Comments on "Top field expected for USA Pro Challenge, but won't include Tour de France leader Wiggins"