Statewide fire ban lifted, but local water officials warn extreme drought conditions persist
Despite recent rainfall, local water officials warn extreme drought conditions persist in Eagle County and outdoor watering restrictions could be imminent. Meanwhile, state officials have lifted a statewide fire ban because of cooler weather and recent precipitation.
"Should community demand for water outpace the available supply in the public water system, the district will restrict outdoor water usage beyond the current normal regulations, which allow outdoor water use up to three days per week, before 10 a.m. or after 4 p.m.," Eagle River Water & Sanitation District officials wrote in a press release over the weekend.
"Residents are strongly encouraged to evaluate their outdoor water use and allot water to their highest priorities so the overall community demand for water is reduced."
Streamflows in local creeks and rivers are only 15 to 25 percent of historic averages for this time of year. The Vail Mountain SNOTEL site recorded just one-tenth of an inch of precipitation on July 4, the first measurable amount of rain since May 24.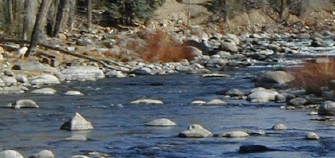 But the monsoon flow since then has produced enough rain to douse numerous wildfires and ease the statewide fire ban.
"Mother Nature is finally giving us some relief," Gov. John Hickenlooper said in a press release. "Even though the 2012 wildfire season is far from over and still challenging, we believe conditions are such that local authorities and federal land managers ought to resume control over fire bans in their jurisdictions."
Eagle County still has a stage 2 fire ban in place. The 2012 wildfire season has been one for the record books, claiming six lives and about 600 homes across the state.
But the governor's office, in lifting the statewide ban in place since June 14, reported that as of Sunday all "existing major fires in Colorado are well contained and no new fires are being monitored or supported by the Colorado Office of Emergency Management. The High Park fire is 100 percent contained, Waldo Canyon fire is 98 percent contained, the Weber fire is 90 percent contained, and the Little Sand fire is 40 percent contained."
But about 47 percent of the United States is in some stage of drought, according to the U.S. Drought Monitor at the National Drought Mitigation Center. And 8.64 percent of the country, including Eagle County, is suffering through either extreme or exceptional drought conditions.
"Recent rains have provided a few tenths of an inch of precipitation. which is not nearly enough to compensate for months of hot, dry, and windy weather," ERWSD officials said in a release. The local water district offered these tips for reducing outdoor water use:
• Shut off outdoor water features
• Skip a watering day
• Using a broom to clear sidewalks and driveways (not a hose)
• Raise the height on your lawnmower
• Water your lawn once a week or less
• Don't allow water to run off your landscape
For complete Water Use Regulation information, go to www.erwsd.org or call Customer Service at (970) 477-5451.
---

15 Comments on "Statewide fire ban lifted, but local water officials warn extreme drought conditions persist"